We are back from Japan, and trying to get as much rest as possible while battling the love sickness :/ Before working on our own show reports, here's a very quick post on some of the clips and newspaper reports of THE Hachioji solo concert held on 12 August!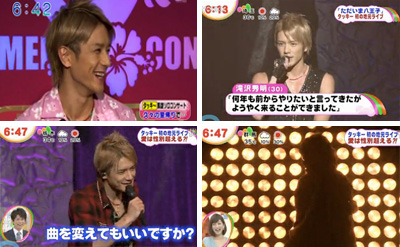 Vids:
dl@mf – Ohayou Call ABC (2.7MB, 35s, grabbed off youtube)
stream@youku – Mezamashi #1 (26s)
stream@youku – Mezamashi #2 (1min 18s)
*Sorry, this is all I have for now. I'll add more if I can find ne~
Media reports:
News24
Nikkan Sports
Sports Hochi
Sankei Sports
Tidbit to end off this post: There's a show called "JOHNNYS' World -ジャニーズ・ワールド-" which will be held at Imperial Theatre from 10 November till 30 December. It seems like a celebration of Johnny-san's Guinness record. The show stars and guest stars some of Takki's kouhais and the juniors, and is "supported by" Takki, Koichi & Kame. I'm not sure what it means by "supported" but I guess kouhaitachi will be performing songs from the Johnnys Imperial Theatre Trilogy – Takizawa Kakumei, Endless Shock & Dream Boys.