KYAAAAAAA!!!! TAKKI KAWAIII!!!!!! ♥
Today was my first day in my new job and as I could only leave office at 5.30pm, I rushed over to Irene's house which was nearby… just to watch this TFP2 (which was shown at 6pm Singapore time)! And I couldn't stop kyaaaing throughout the show hahahaha~
The 104 Jrs. were wearing different color t-shirts. Green – elementary school; Red – junior high school; Blue – high school. Takki was wearing black! :D Their t-shirts all had the "Tackey and Johnnys Jrs" logo on it. I want that t-shirt!! haha~ And 8 year old Chino-kun was so cute! He said the sempai he admires is Takki! And Takki's *YOSHA* right after that was so cute haha~
Morimoto Shintaro-kun was also kawaii ne~~ honto ni ii ko da ne~~ fufufufu~ I love seeing Takki & Shintaro-kun playing the games together. Especially during the Air Hockey, the part where they looked at each other and burst out laughing LOL!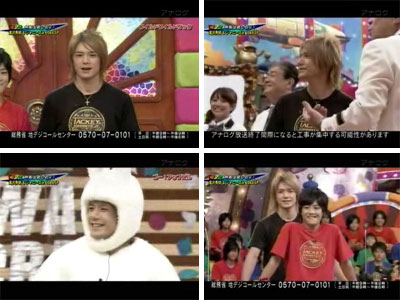 I don't wanna spoil the entire show for everyone (and really, this time you don't really need to understand Japanese to understand the games)… But, ne!! Rabbit Takki kawaii~~~!! XDD And even though Takki is at least 10 years older than the Jrs, and not exactly as tall as many of them *lol*, he's still so fit!! Haha~ even though he was panting hard after his bunny game lol~~ But when it came to the thing that adults should be better at…. well, hmm… *lol*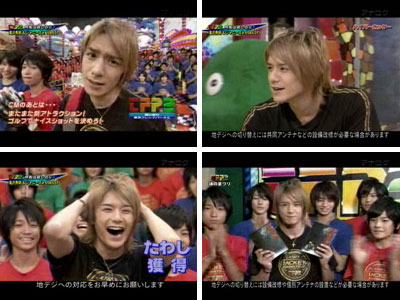 Fortunately we watched until the end… Just when I thought that he wouldn't be doing any PR for Takizawa Kabuki DVD, he appeared again back stage after the show!! He was with the few Jrs who participated in the games. And right at the end of it, he held up two Limited Edition DVDs!!! Kya!! So pretty~~ I can't wait to get my hands on the DVDs!
Download from MU / MF (320×240, 195.71MB)
*Pls do not re-post but direct people over to this post. Tks!