Posting some recent tv guestings for Trip & Treasure…
This was Takki's first live TV appearance after 11 Mar disaster. This episode was very solemn, no applause and no live audience. The other artistes sang rather sad and slow songs, but both Johnnys groups on the show – T&T and NYC – sang lively songs, hoping to bring smiles back on the faces of people. Instead of singing songs from their new album, T&T sang Ai wa Takaramono.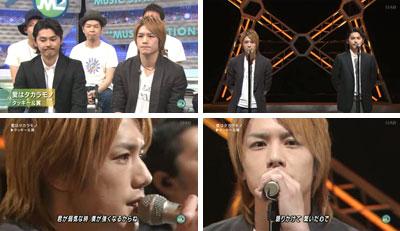 Opening – MF / MU (1280×720, mp4, 12.59mb)
T&T Talk&Performance – MF (1280×720, mp4, 91.7mb)
Files grabbed from YT; couldn't grab the ending file before it was removed, gomen.