This was the first ever time I saw Takki on TV LIVE! I've been to Japan twice before this, and never seen him on TV. Somehow I would just miss it (Zubari, news clips, CMs and what nots), but this year, we were lucky! The moment we checked into the hotel, Music Station Super Live was on air already~ and T&T appeared soon after!

Download the talk segment here (44.94MB)
The performance was super kakkoii!!!! Takki's sleeves were kinda rolled up again and I love his white belt!!! *hehe* At the end of the performance, Takki bowed to the audience :D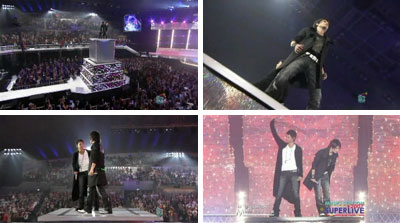 Download the SAMURAI performance here (71.09MB)
After returning from our ramen dinner, we turned on the TV to watch the end of MSSP, and not sure WHAT was calling us, the moment I looked up at the TV, Takki's FUNNY FACE appeared!! Stephie and I just so happened to turn to look at that very moment, and we screamed out at the same time!!!! LOL!!!

Download this cute part here (5.4MB)
Just noticed that Takki's t-shirt at the end is white in colour but the one during the talk & performance was black!