Takki was surprise guest on Waratte Iitomo yesterday morning. He was placed in a box, and only one guy could see him. This guy had to write 5 words (kanji/kana – from 1 character to 5 characters) to give hints to the other people on the show. These people had to guess who's in the box.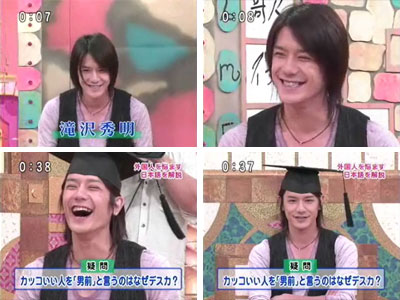 Takki was wearing pink, with a black vest. And he looks so cute wearing the graduation hat!! Haha~ especially when he had to take it off to let the girl put the red flowers around his neck lol… He was asked to explain how did the word "otokomae" come about… and he won an extra ring of flowers coz he was kakkoii lol… I was letting it record in office while I worked, so I didn't really pay attention to what's going on. I'd have to watch it again hehe…
And I stupidly overwrote the first part of my recording >.< So the caps here are taken from Nyanco's recording :) Hopefully there'll be a HQ available soon!
Updated 10/14:
LQ, 320×240, WMV, 330.01MB
MU: complete
MF: 001 | 002
Thanks, nyanco, for allowing me to share her recording :)