Takki appeared on Waratte Iitomo this morning as a "surprise guest".
They had to guess who the guest was, and there were 3 clues given. Takki was also talking though a voice filter lol! Only 2 of them didn't manage to guess correctly. Most people caught it only after the 3rd clue — youngest taiga drama lead at that time (at the age of 22) :)

And that 2nd clue, that Tarzan (I was laughing when Ota-san touched the chikkubi!), was one of the mags that I didn't receive, in the same batch as the Fineboys I posted last night lol. Talk about coincidence…
There is also small part during the CM that Takki was dressed as a schoolboy! He took something out from his shirt~ kyaaaa~~~

Then he also took part in some game segment, about the songs people sing during graduation ceremony. Takki said he wanted to guess what's behind the "lion", but actually that picture is a tiger wahahahaha~~ and he was so cute when he said "kanpai" as his answer, the audience went "ehhh…", and then he bit his fingers!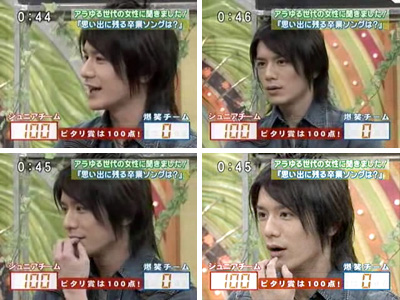 And then after he gave another answer, the audience went "ehhh??" again and his exasperated look was so funny~ and finally his "wakkanne yo~~" was so cute!!!
At the end, he held the promo boards for Takizawa Kabuki and Takizawa Kakumei DVD, which is released today!
Download – MF or MU (99.54MB)
*sorry, only LQ for now. I'll add HQ if I can find it…
No scanning for today! But the countdown continues… 19 more days ~♥
Waratte Iitomo 2010.03.10