So happy~ today is Takki-solo day! XD
First is this, his first appearance on Meringue no Kimochi. There were some errors in my recording so I've cut those away. I've also left out some of the other guests' VTRs. Hopefully we can find HQ soon.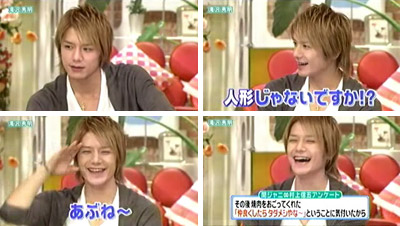 Download LQ from MF (162.26MB, divx)
There was footage from the bday party that Takki produced at Tokyo Dome, pictures from his first appearance on magazine at age 13, VTR of NEWS concert opening, etc. But the best part was when his best friend in Johnnys revealed tidbits about Takki! Especially that one about Takki's "girlfriend's ___  placed on the passenger seat of his car". Hahaha~ Takki's "ehhhh? what?… eh, girlfriend's what…?…*thinks hard* ah! wakatta!!" lol~
In fact, Hina was referring to a "girlfriend-like huge soft toy" lol! So funny when the lady said all the fans must be holding their breaths then sighing in relief that it's only a 'soft toy' lol. Takki said he had a Minnie Mouse soft toy from Disney, and even placed a seat belt on lol~ His *wipes sweat off forehead* action was the cutest hahahaha~~~ like "phew~ he didn't give away my secret" kind of reaction.