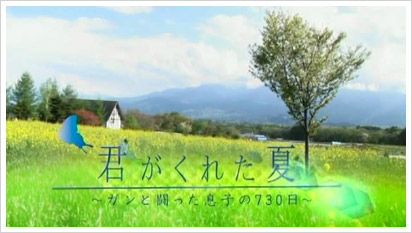 Drama Info:
Title: 君がくれた夏
Tagline: ~ガンと闘った息子の730日~
Title in Romaji: Kimi ga kureta Natsu
~Gan to Tatakatta Musuko no 730 Hi~
Translated titles in English: The Summer You Gave Me
~The 730 Days of My Son Who Fought Cancer~
Translated titles in Chinese: 你給我的夏天
Type: 24時間テレビSPドラマ (24Hr TV Drama SP)
TV Station: NTV
Air Date: 18 August 2007, Saturday @ 9.15pm
Rating: 23.3%
Official website: http://www.ntv.co.jp/24h/contents/naiyou2007.html
Cast:
Takizawa Hideaki as Kizaki Masato
Fukada Kyoko as Kizaki Tokiko
Takei Akashi as Kizaki Naoya
Sasaki Mao as Riko
Katsumura Masanobu as the doctor
Suzuki Anju as Riko's mother
Natsuyagi Isao as Masato's father
DVD Release:

Release date: 28th October 2009
Price: 3,990yen (incl. tax)
Pre-order @ CDJapan | Amazon
Storyline:
Kizaki Masato and Kizaki Tokiko met when they were in high school. They were 17 and 16 respectively. Both did not complete high school, and because Tokiko got pregnant, they got married at a young age, and had their first son, Naoya. Soon, their 2nd son Ryuya was born too. Although it was a simple life, the 4 of them lived happily, until a day when Nao was 5, that they found out he had Ewing's Sarcoma – a rare cancer affecting 1 in 100,000 children…
This drama is based on the book "Ganbareba, shiawase nareru yo" by Yamasaki Toshiko, who wrote the story of her 9 year old son who fought this disease.
My Thoughts:
** HIGHLY RECOMMENDED OF COURSE!!!! I'd recommend this to anyone, Takki fan or not! This is also Takki's first role as a father!! And everything about this drama was well done~ from the casting, to the storyline, to the acting, to the background music… The scene where Masato broke down completely was stuck in my mind for a long while. That campfire scene… father and son… those 2 pairs of teary eyes *sobs sobs*
I think everyone can relate to this drama. The appearance of the real Yamasaki family on 24hr TV the morning after just makes it all the more heartbreaking. Watching how the real Nao was, so positive, so full of energy, you really feel for them. And I think there're loads we still have to learn from young Nao-kun.
"Courage is important. With courage, you can do anything."
I guess one of the reasons why the rating was so high, was the fact that the drama managed to keep the audiences' attentions well. The plot is strong and the acting is convincing. To me, there isn't any scene which is channel-switching inducing. That might also be the reason why this is also the first japanese drama that my dad sat through and watched the entire thing – from start to end. He made a comment too, that any parent will be able to understand. When one's young child tells him something like "I don't want to die", what can a parent reply at a time like this – in a seemingly hopeless situation?
"If you keep fighting, you can find happiness."
I love the Takki-Kyoko pairing. They match well to me, appearance wise – since News no Onna and S.O.S. And I was so happy when they were cast as a married couple. But was also glad that the focus was not their pairing but more on the father-son relationship… and basically how much a small boy wants to live, how he keeps fighting on… and how a father comes to terms with and faces his son's illness instead of running away from it. Father and son bond was strong~ Takki and Takei Akashi have really great chemistry! They got along really well during the filming desho :)
My only complaint: why isn't there a soundtrack for this drama?!
Icons:



More Kimi ga kureta Natsu icons.
Screencaps: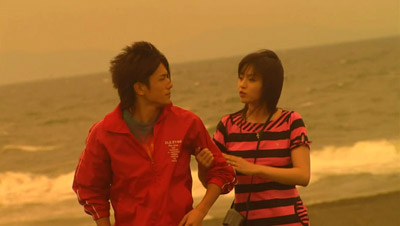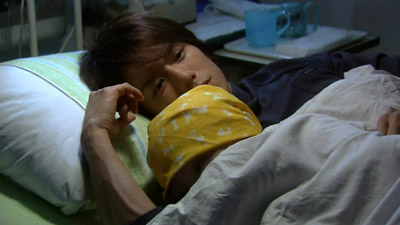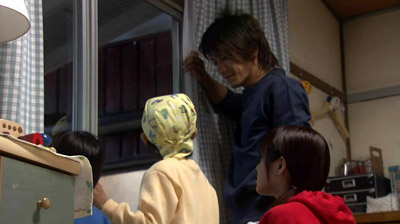 View the rest of Kimi ga kureta Natsu Screencaps.
Related Links:
The book:
The original book written by Nao's mother Yamasaki Yoshiko.

** Disclaimer: All media and information posted here are for promotional purposes only. They are strictly not used for commercial purposes, and no copyright infringement is intended.