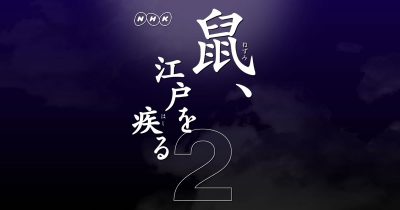 Title: 鼠、江戸を疾る2
Title in Romaji: Nezumi, Edo wo Hashiru 2
Format: Renzoku (series)
Genre: Jidaigeki (period drama)
TV Station: NHK
Start date: 14th April 2016
Air time: Every Thursdays, 8pm
No. of episodes: 8
Official site: http://www.nhk.or.jp/jidaigeki/nezumi2/
Theme song: Sennen Renbo by Kondo Masahiko (Matchy-san)
Notes:
This is the first time Takki has a sequel for his drama.
In Takizawa Kabuki 2016, the entire act 2 was about Nezumi Kozo.
Basically the cast was kept the same as the first season, except the role of Jirokichi's sister, Kosode, which is now played by Aoyama Misato.
Ratings:
鼠の子守唄 (14 Apr 2016): 6.6%
闇の中の光 (21 Apr 2016): 7.5%
馬鹿と毒薬 (28 Apr 2016): 6.1%
小鼠の涙 (5 May 2016): 6.7%
妖刀とにせ鼠 (12 May 2016): 6.3%
小判の秘密 (19 May 2016): 7.6%
偽りの孔雀(くじゃく)(26 May 2016): 7.1%
狙われた若君 (2 Jun 2016): 6.6%
Cast:
Takizawa Hideaki as Jirokichi/Nezumi Kozo
Aoyama Misato as Kosode
Kyomoto Taiga as Yonehara Hironoshin
Katase Nana as Senda Chigusa
Takashima Masahiro as Tokugoro
Ikeda Tetsuhiro as Asakichi
Hamada Mari as Osome
Tsubokura Yoshiyuki as Yohei
Sugiyama Hiroyuki as Tasuke
Yatabe Shun as Kisaku
Shimano Yume as Okuni
Watanabe Shu as Hayazaki Ichibe
Yamamoto Maika as Okine (Ep 2)
Takaki Yuya as Sosuke (Ep 2)
Misc.: