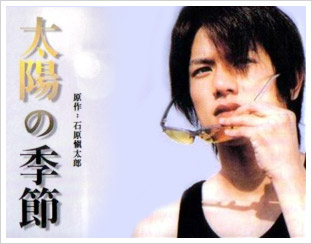 Purchase DVD from CDJapan | HMV | YesAsia | Amazon | Towers
Drama Info:
Title: 太陽の季節
Title in Romaji: Taiyou no Kisetsu
Translated titles in English: Season of the Sun
Translated titles in Chinese: 太陽的季節
TV Station: TBS
Air Date: 07 July to 15 September 2002, Sundays @ 9pm
No. of Episodes: 11
Theme Song: Ki.Se.Ki. by Takki
Official website: http://www.tbs.co.jp/taiyou/
Cast:
Takizawa Hideaki as Tsugawa Tatsuya
Kota Yabu as young Tsugawa Tatsuya
Ikewaki Chizuru as Izumi Eiko
Okada Yoshinori as Kawano Kouhei
Matsumoto Rio as Komiyama Yuki
Takaoka Sosuke as Sahara Shinji
Matsuzaka Keiko as Eiko's mother
Takahashi Hitomi as Eiko's housekeeper
Endo Kenichi as Orihara Kaname
Miyazaki Yoshiko as Tatsuya's mother
Oshinari Shuugo as Honjo Naoto
Fukae Takuji as the doctor in the hospital
Ohkura Koji as the track-and-field team trainer
Ratings:
Chapter 01: 16.0%
Chapter 02: 14.8%
Chapter 03: 17.2%
Chapter 04: 11.8%
Chapter 05: 13.3%
Chapter 06: 11.2%
Chapter 07: 12.8%
Chapter 08: 12.6%
Chapter 09: 12.7%
Chapter 10: 13.2%
Chapter 11: 14.0%
Average Rating: 13.6%
Storyline:
(from jdorama.com)
An adaptation of Ishihara Shintaro's most successful novel.
Hideaki Takizawa in the starring role of Tatsuya, a tormented college student who was once an all-around nice guy but now seems to be balancing a gigantic grudge on his shoulder. What the grudge is has yet to be revealed, although it likely has something to do with his father and the poverty that plagues his life.
For some unknown reason, he has taken to hanging around with the richest kid in school, basically a trusting, nice guy who Tatsuya is out to destroy. He feels an uncontrollable urge to deface the rich kid's new car and chase after his fiance. Complicating the plot further is Tatsuya's run-in with a young composer and pianist, who has a limp sustained in a car accident many years before. She, too, is rich, although Tatsuya does not know it yet. Stuck in a stifling home environment with her pianist mother who disdains her desire to compose, the obedient young woman begins to change after a chance meeting with Tatsuya, while he seems to regain some of his humanity in his interaction with her.
My thoughts:
*Warning: contains slight spoilers*
This is one of my favourite Takki dramas!!! IMO, the ending is actually one of the best endings of Takki's dramas. The character Tatsuya has a bit of an evil streak in him, and it's quite nice to see Takki play this kind of character for a change. His gaze is so intense – and cruel (as Eiko's mother puts it) – at times, yet at other times he looks so kind and innocent…
"If you're going the wrong way, you should immediately backtrack.
Why didn't I realise that it was so simple?"
Sometimes he just looks so lonely and sad that I wanna give him a HUGE HUG!! Then at other times, I just wanna slap him for being so stupid, praying he'll come to his senses… I love the yasashii side of Tatsuya, when he's with Eiko. It's like there is the angel and devil battling within him….
"Sayonara. That word pierced through my body.
And the pain will always remain.
That's why I used more pain to erase the pain…"
Yes, that scene at the end of episode 9! Ahhh~~~ that heart-breaking feeling (which I can't describe) again!! It really pierced through my whole body. And the last episode, I cried buckets, even after the show ended, I was still sobbing… Nanka… I just felt it was so cruel… So so cruel… And when I found out the meaning of the lyrics to Ki.Se.Ki, I felt even more for the show… It fits so well! Takki singing it makes it even more meaningful… I think this is the only drama he's in that actually used his song as the theme.
KI.SE.KI. (MI-RA-CLE)
By Takizawa Hideaki

Sitting in traffic
I thought I saw you through the window
A voiceless scream
Searched for its destination

Is freedom just the same
As loneliness?
Is it something we lose
When longing for things we can't have?

When that brilliant season
Melts into a memory
Only those innocent eyes
Keep my heart pining
I can never return to that day

The tracks go round and round
Showing your smile
Which gave me invisible wings
But without realizing that
The distance between us
Grew without our noticing
Someday I'll overcome
That selfish weakness

I'd always said
I wouldn't believe anyone anymore
I thought
I could live alone

The memories of being with you
Slowly fade
Suddenly I'm hurting
So much I can't breathe
But still I'll try to keep walking

The tracks go round and round
And what was missing there
Is here in my hand
With the fragments of pain…
The sensation of touching you
The shape of your sleeping face
The warmth I embraced
Slip through my trembling heart

The tracks go round and round
And your shining tears
Gave me invisible strength
That's why I'm here
Whatever our eternity together
Has to say
It all becomes a sign of life
And it's still shining in my heart

If the miracle of meeting again
Exists for us
This time I swear
I'll protect you til the end

Lyrics translation credit: Megchan
And I should also mention, that the actress who played Izumi Eiko, is only actress who acted the love interests of both Takki and Tsubasa. And the one who played Yuki is probably the actress who gets to act the most intimate scenes with Takki~ xD
Soundtrack:
It seems like there is NO Original Soundtrack released for this show! That is the most cruel thing to do to us yo!! Coz the music in this drama is so damn beautiful!! "Ki.se.ki." instrumentals and "For My Sun", which is such a beautiful piece! I was so hooked on it, so much that I ordered in the Piano scores from Kinokuniya, so that I can play it on my piano.
I've cut out some bits of the audio from the drama:
The song by Beach Boys "Good Vibrations" is also often played in the drama.
Screencaps: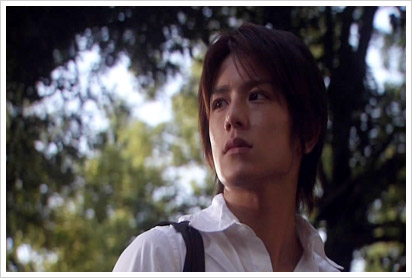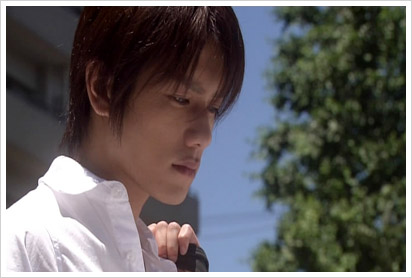 View the rest of Taiyou no Kisetsu Screencaps.
Storybook:
** Disclaimer: All media and information posted here are for promotional purposes only. They are strictly not used for commercial purposes, and no copyright infringement is intended.