Yatta!!! I heard from Nyanco that there were DVD cams just now for both the day and evening "childrens day special" shows!! Takki confirmed it himself during the evening show, I hope this means they'll bring in cams during the regular shows later this week. And hopefully there'll be a Making document as well! XD
Okay, back to the report :)
Takizawa Kabuki is held at Nissay Theatre. Nissay is a rather small theatre. It's even smaller than Shimbashi Theatre. That means, everyone gets a relatively clear view of the show, even from the 2nd floor. But it also means that Takki has lesser room to play with. I think that was why he extended the front part of the stage (the XA~XC rows in the middle were converted to a stage and its sides were made to box seats).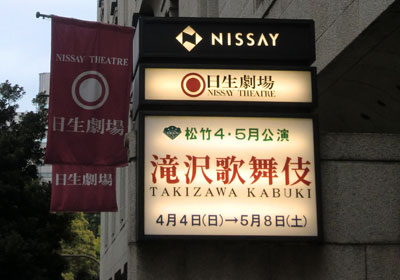 There was a poster in the middle, outside the entrance of the theatre.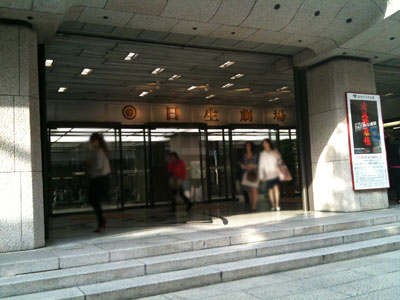 There's also a board showing the schedule for the day's show.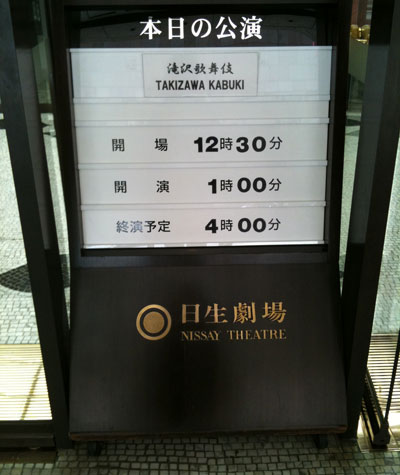 After entering the theatre, there were some congratulatory flowers on display. Once again, I saw familiar names on them like Miwa Akihiro, Kyomoto Masaki, Matsudaira Ken, Mori Mitsuko, Watari Tetsuya, Music Station, etc…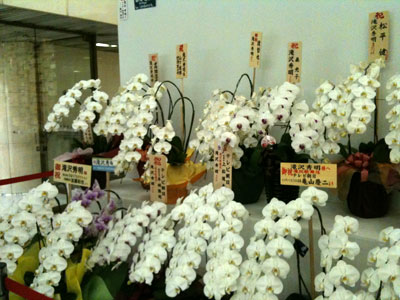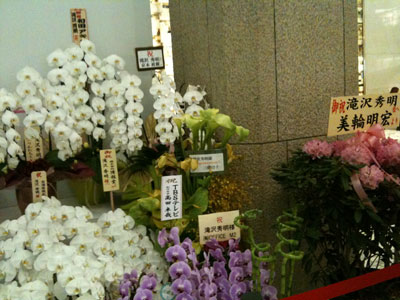 This time, the goods are really special. I really love the entire set.
From the previous red-tinged Enbujo, the goods this year seem to be blue. Maybe it's because of the change of venue – from the traditional Shimbashi Theatre to the modern Nissay Theatre. The logo this year is a repetitive "HT" (or "TH") brand. Simple but smart. Whether you see it as dark against light background, or light against dark background, the letters "H" and "T" are printed all over the goods :)
Pamphlet – 2,000yen
Very different feel from previous ones. Fortunately it's of a manageable A4-size. The front and back covers are mirror-silver. It's really hard to take a good picture of it without getting a reflection.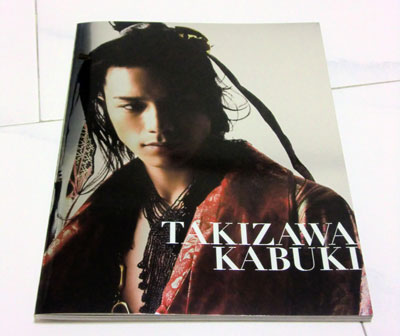 These are just some of my favourite pages from the pamphlet.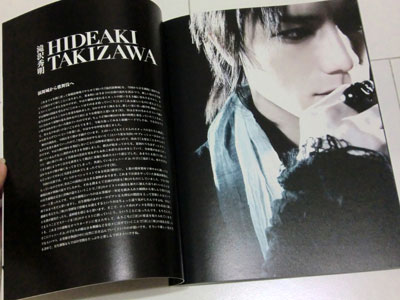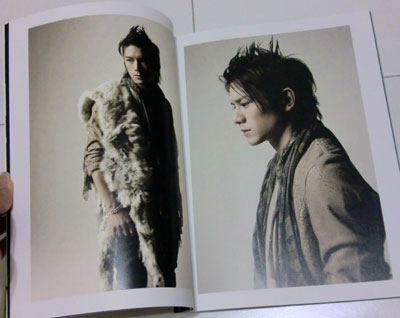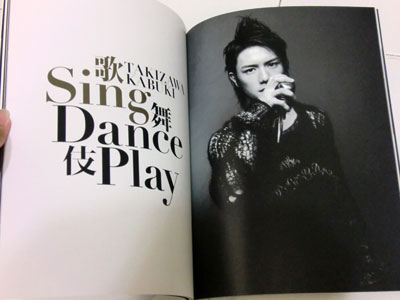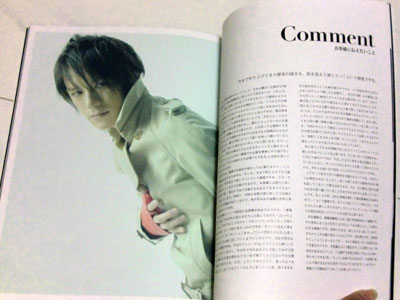 Clearfile – 1,500yen
This is the monochrome rocker with guitar hehe~ It's similar to an image in the pamphlet, but I bought two of this in the end. Again, one to use and throw about, and one to keep nicely in my box LOL. I like the back of the clearfile :)
Bookmark – 800yen
It's made of cloth, and very pretty. Simple design with the repetitive HT logos, the letters "T" and "H" on top, and the words "Takizawa Kabuki" stitched vertically :)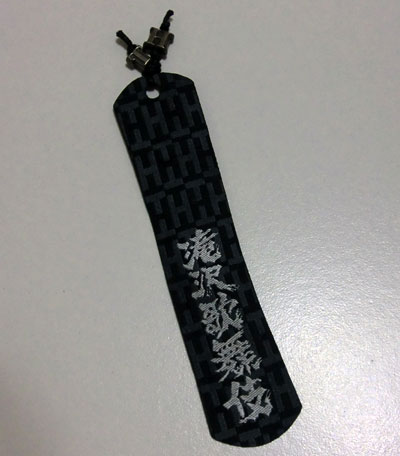 Shopping bag – 1,000yen
I love this one too! It's made of cloth, the straps are flat, the size is just right, and the design is mature (vs Takisamacon's Takiranger bag last year hehe~). It's like carrying a branded bag (HT brand) haha~ The words "Takizawa Kabuki" looks like a label that we forgot to tear off though hehe~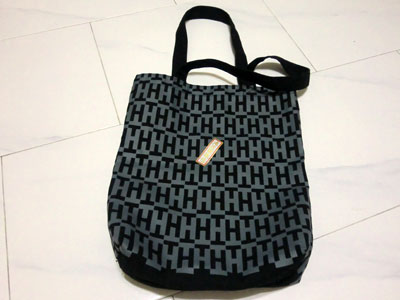 Poster – 800yen
This poster is really unique!! Modern Kabuki i.e. Takizawa Kabuki! XD Sorry about the bright spot, this was the best I could take of the poster lol~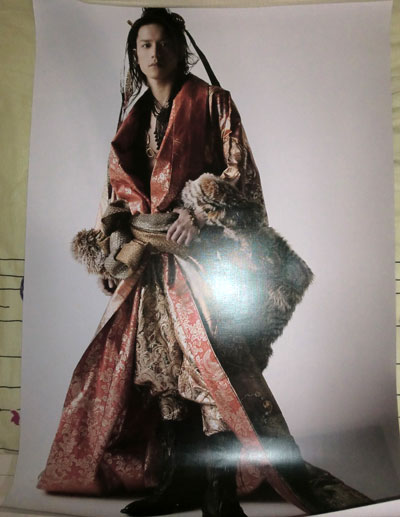 Notebook – 1,500yen
This one is nice too. The cover is made of cloth! And the inside are pages with watermark of "Takizawa Kabuki" on the right. There are blank pages, as well as pages with lines. Arrgh, I can't bear to use it!!!
Chopsticks – 2,000yen
The chopsticks themselves are rather simple. The cloth cover is really pretty though, but it's quite costly. p.s. Takizawa Kabuki chopsticks cost more than Disney chopsticks :)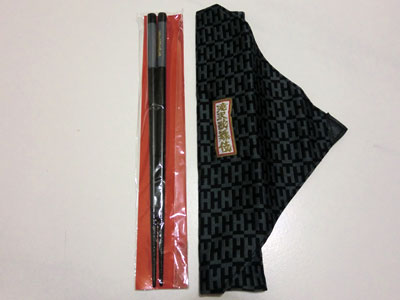 Original Photosets – 600yen/set
Takki has 5 sets of original photos (aka pamphlet offshots) – A, B, C, D & E. Each set has 4 photos.  My favourites of each set are: #2 of set A, #2 of set B, #4 of set C, #3 of set D, and #3 of set E.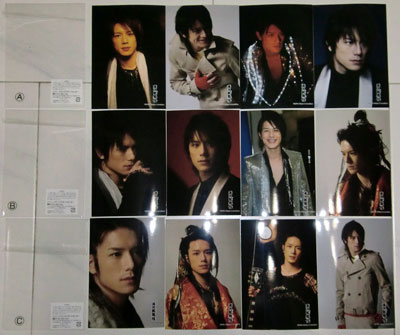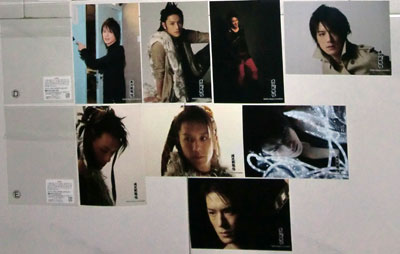 Photo album – 1,000yen
This album is different from previous butais', coz it can fit the standard photos from the original photoset (same size as those in the Johnnys shop). That's because the stage photos this time are not the large 5R sized ones, but the smaller 3R sized ones! This means that the photo album can be used to store both the original photosets and the stage photosets!
Stage photosets – 600yen/set
I kinda prefer them to be this size, so we can get more shots for a cheaper price. I don't mind the smaller size, it's easier to keep anyway. Like the original photosets, there are 4 photos in each set. So far, Takki has 12 sets. #1 ~ #8, #16 ~ #19.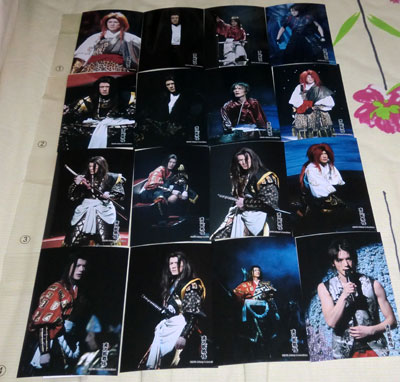 Some notable ones are #3 from set 2, #4 from set 4….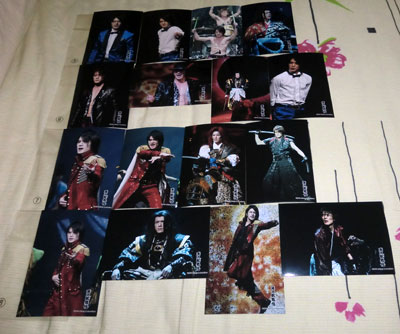 …#2 & #3 from set 5, #1 & #4 from set 6, #3 & #4 from set 8…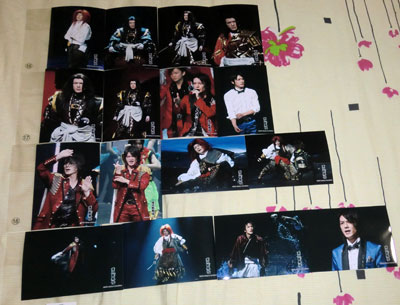 … #3 & #4 from set 17, and #3 from set 19.
There might be one more batch released later this week, I hope. But for now, these 48 photos… NONE of them are Kabuki-white-faced Takki! I wonder WHY the official photographers always can't seem to produce kabuki photos well… I hope the last batch of photos (if any) will have some kabuki as well as the costumes seen only in the Children's Day shows hehe…
OK, mission accomplished. Time to sleep! XD
P.S. Time to save $$ for the DVD! So that nobody will complain about the price when its release is announced LOL