There is always an additional sense of excitement – when attending the very first show of any concert or butai – of seeing the real goods for the first time, without previews. Last year, it was the Takiranger uchiwa that caught our eyes. This year, it's Poster B. As we were walking up the stairs to the super hot goods booth, that was the first thing we saw! haha~ And then we were laughing at some of the photos right in front of the booth (the staff and security were looking at us lol).
It's BLUE! We expected pink haha~ but let's start with the cover. It's matt and made of hard board! The quality of the paper used for the inner pages are good, thick.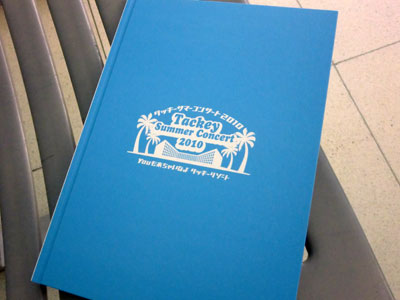 The story is about the two owners of the Tackey Resort – Black Owner (the 'underground boss') and Tackey Owner (the kind and gentle boss haha~).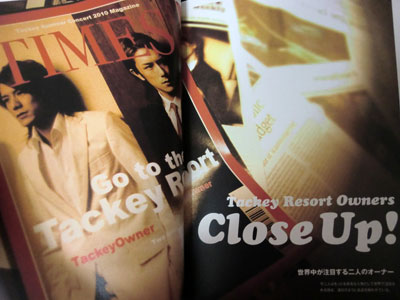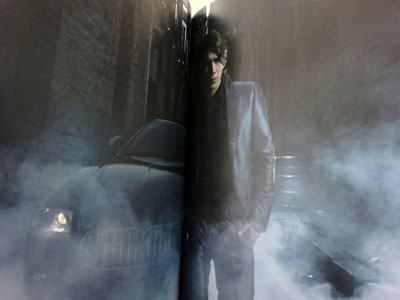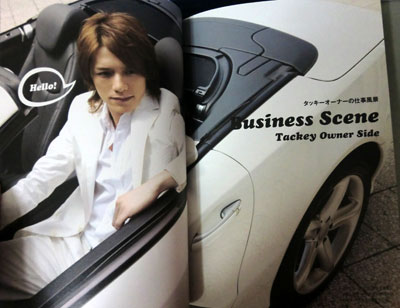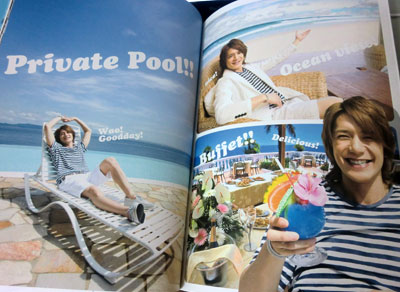 We were kyaa-ing and laughing at the same time, while flipping this in the cafe. And you don't have to understand Japanese to follow the 'storyline' coz most of it is in English haha!
[spoiler]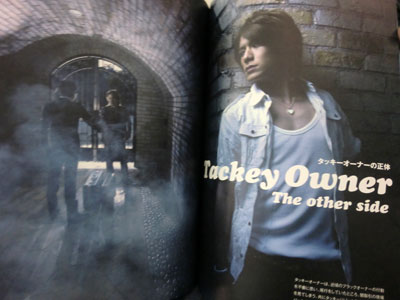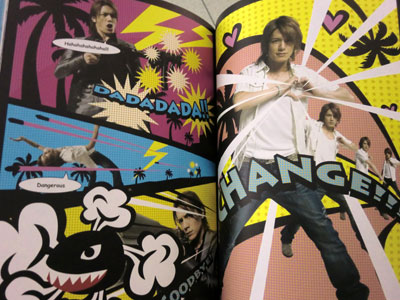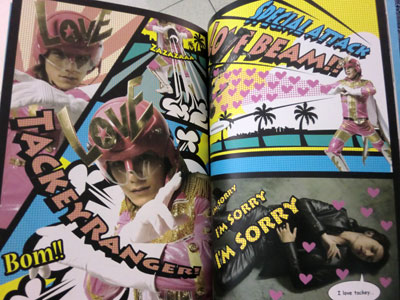 [/spoiler]
While last year's was a photo collection, this year's is a manga! LOL! It was so fun looking at some of his baka expressions! You can see his kakkoii, kawaii, and baka sides all in one pamphlet. Oh, and I counted — there are 64 pages, excluding the covers.
Posters – A & B (800yen each)
I prefer Takki's face in poster A. He looks really handsome and smart in the white suit.
But poster B is something different from the usual. It's kawaii Tackey Owner grinning at us :)
Takki makes a funny face this year~ and it was fun putting many of this uchiwas in a row, moving them left & right during the Shalala outro at the concert lol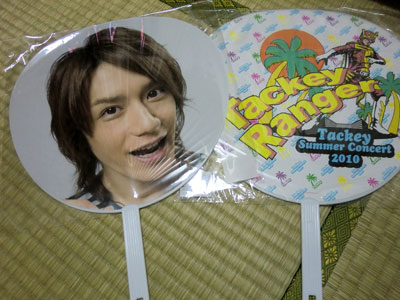 Different from usual. It's a double-pocket clear file, with 2 different pictures for the front and back. The middle pockets are the Tackey Ranger logo and prints similar to the tote bag.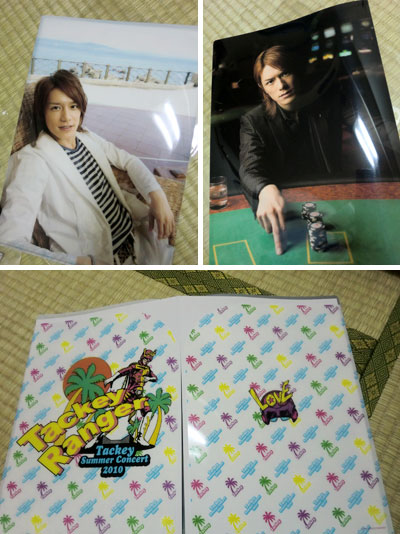 Original Photosets – A to E (600yen each)
These are offshots for the pamphlet shoot. Photoset A consists of 3 Tackey Owner and 1 Black Owner. And these shots were taken before Takki cut his hair. I prefer his current shorter hair, though these are quite suitable for the roles (especially Black Owner's lol).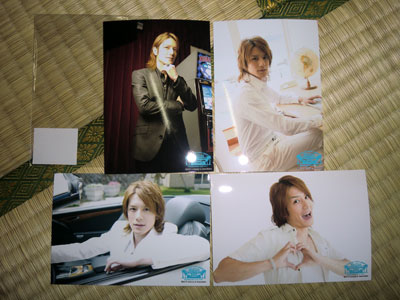 Photosets B & C are an equal mix of both owners. I love all the pics of Takki in the blue/white striped t-shirt! And we were lol @ that bottom right pic of set B (Black Owner on the phone, laughing), and that bottom right pic of set C is so cute too~ plus, if you notice the top left pic of set C, we can see Tono's abs (sorry it's not clear here due to the camera flash)!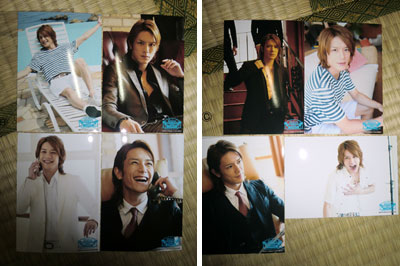 Photosets D & E have Tackey Ranger doing his special "love beam" attack lol.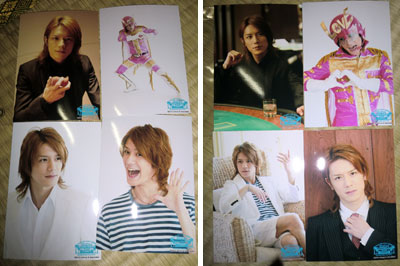 I think my favourites are sets B & C. The day after we bought this, we went to the JE shop, and HORA! 40 new photos from this pamphlet shoot as well! I'll post about those later. But the difference is of course the watermark found on the bottom right of each photo.
I expected yellow, and many expected pink, like what Takki and the jrs wore during the event. But it's blue lol! I wore this for the 2nd show. And Takki wore this during the concert too. He wore it with jeans, and even though it's a simple t-shirt of not-so-striking color, he looks so good in it!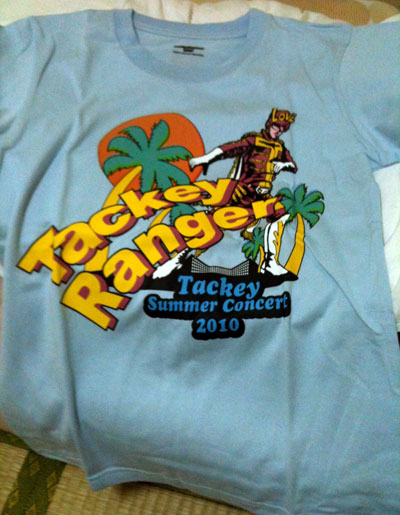 Hair Pin Accessory (1,000yen)
I think this is my least favourite of the goods this year. But we wore it during both shows, and didn't care if we looked silly or not lol. To commemorate the trip, 5 of us even squeezed into a small room and had our baka photo session the night before we left Osaka lol.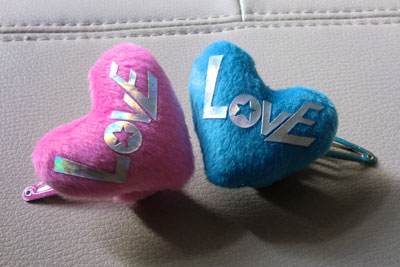 It's similar to last year's, but the prints are different. I prefer last year's colorful "Love" prints to this year's "coconut tree" prints, but for the other side, I prefer this year's "Tackey Ranger" logo to last year's "Takiranger helmet" one. I love both equally hehe~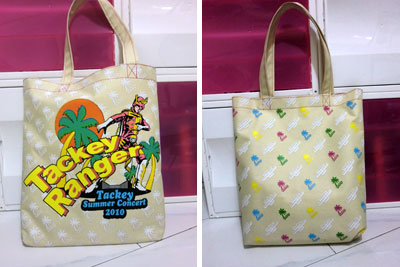 Silicon Bracelet (800yen)
We wore this for both shows. It's something that I can wear out, even back in SG. Quite happy that there's that silver love helmet, coz I was expecting just a band with words. Takki wore this during the 2nd show too, even when he was wearing his serious concert costumes! :D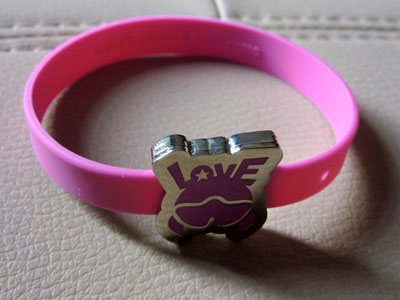 That's it for the goods report.
I'm gonna start my baito tomorrow… not sure how it'll turn out but it could mean that I can only work on the con reports at night. My memory is fading and I can only remember clearly certain certain scenes (which I don't think I'll ever forget LOL). But I'll try my best.