Sorry, I'm going back to January again this year, as I have to complete that trip log before starting on the most recent one. But dun worry, I'll continue to work on the Takizawa Kabuki goods and show reports in the meantime…
2010.01.14
We wanted to go to the Tokyo Metropolitan Office the day before, but as we trusted the weather forecast, today would be a better day to do so (clearer sky). This was breakfast that I had in the hotel room.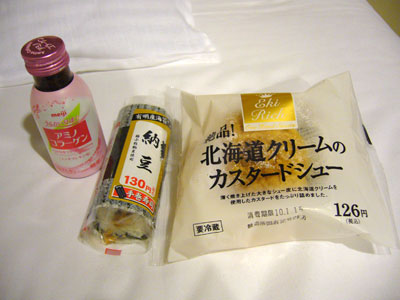 After that, we took the train to Shinjuku and from the station, followed the signs, taking the underground walkway, and we found the office.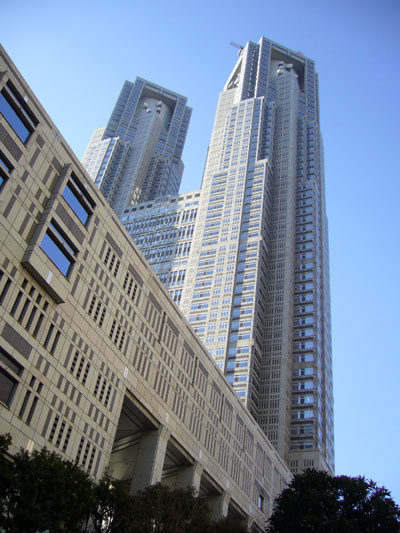 There were the North and South observatories, and I vaguely remembered that the South had a better view or something, so I think we went up that one. Actually I can't really remember, but I know that our main purpose was to catch a glimpse of Mt Fuji. From Tokyo Tower the other day, it was raining so we couldn't see anything… But today, it was a good day for viewing. We were slightly excited when we finally saw it. But it doesn't look as clear in the pics.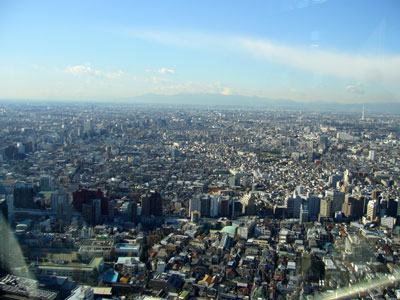 We were also searching for the places we visited earlier, like Tokyo Tower, Meiji Shrine, as well as other landmarks.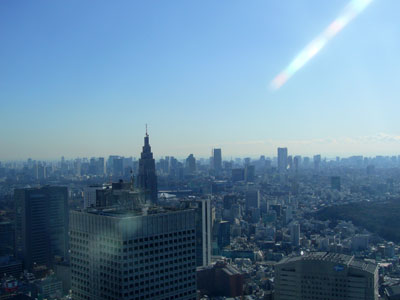 We went into the souvenir shop as well, and shortly after, we decided we'd better move on. On the way back to the station, I took some pictures of the buildings.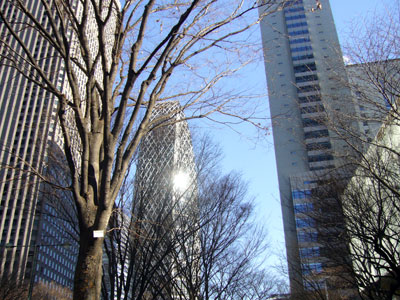 Then we bought the yuckiest drinks of the trip lol — some funny brand milk coffee and milk tea, from a combini along the way. They were really gross lol… Un, anyway, we took the train to Shimbashi, and from there bought our one-day pass on the Yurikamome.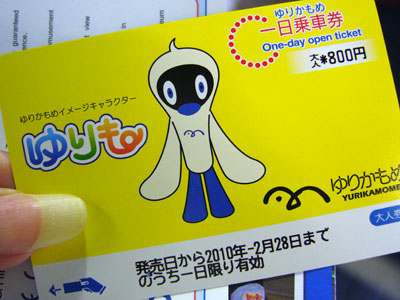 I purposely chose the front car, but after we entered and sat down, a group of foreigners came in and stood right at the front of the train, blocking our views. Sigh… But we still managed to catch some pictures of the rainbow bridge and stuff.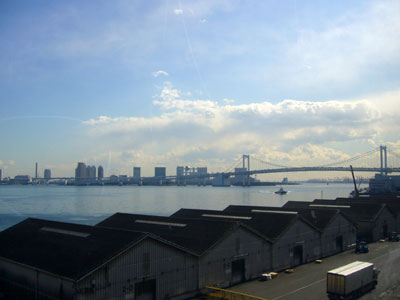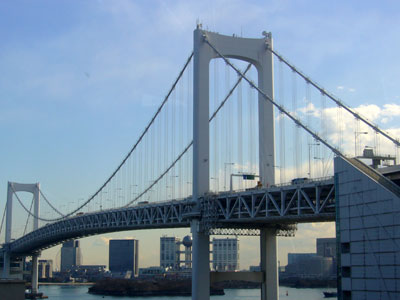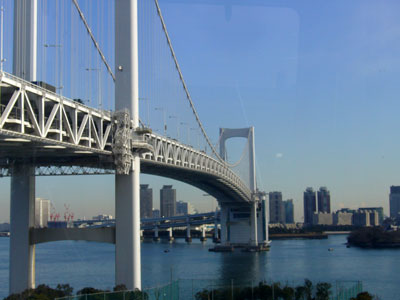 We stopped at Odaiba Kaihinkoen station, and did a bit of shopping at Tokyo Decks. At the "Little Hongkong" floor, we had our lunch at a chinese restaurant. It was rather empty. I had Tantan Men. And the taste was… ok.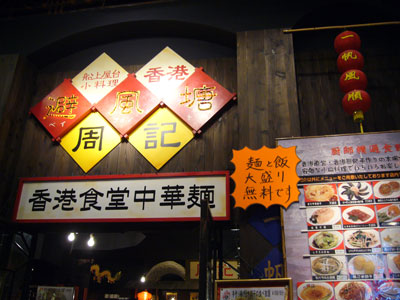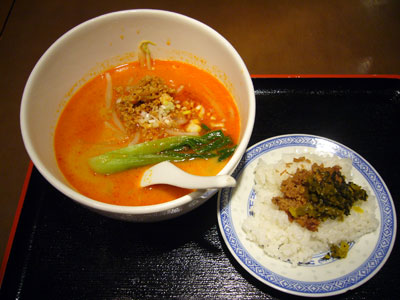 The waitress there spoke to us in cantonese I think. And perhaps a bit of mandarin. She helped us to take a family photo as well. When we paid for the meal, the owner of the restaurant asked us in English, "Are you from Singapore?" Haha~ The owner said he was from Malaysia… no wonder he could tell from the way we spoke lol. He told us that the waitress was from Beijing. At first we thought she was from Hong Kong. Anyway, he said business wasn't good, and we could tell. There were so few people in the shopping centre itself.
After the meal, we walked around the shoes and clothes shops, then headed for Aquacity and the statue of liberty. Although it was FREEZING, we took many photos, and tried our best to take good shots. But it was tough haha. I've been here with Irene before so it wasn't anything new for me. But for my family, yes :)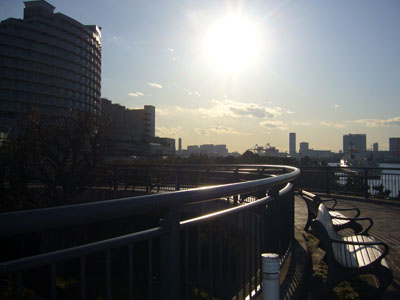 And this shot of a closer up view of the statue of Liberty, with Rainbow bridge and Tokyo Tower in the background.
It was freezing as we walked towards Fuji TV station, and although we wanted to go in there, the long flight of stairs and the cold wind deterred us.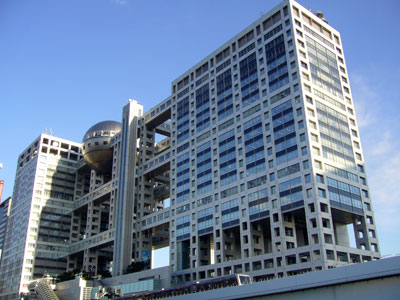 Instead, we headed — actually we RAN coz we were tooooo cold — towards the Daiba station to seek a bit of warmth… and took the Yurikamome towards Aomi station. Along the way, we passed by the Museum of Maritime Science. We didn't stop there but I took a shot of it from the train.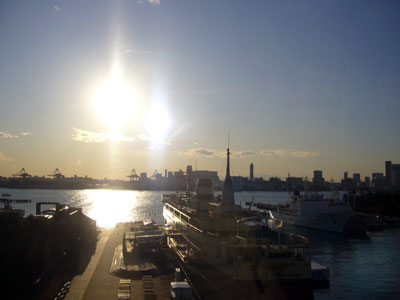 We stopped at Aomi, which is in front of Palette Town and Venus Fort. First thing we did was head for Megaweb, coz my brothers and Dad are interested in cars.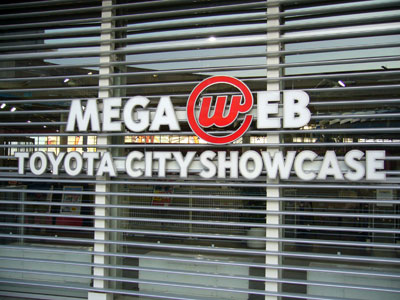 We didn't take any of the e-rides or such, but my brothers & I took the simulation ride (of one of the old 1958 races). It wasn't fantastic, but alright… There was the Toyota F1 car on display outside the theatre.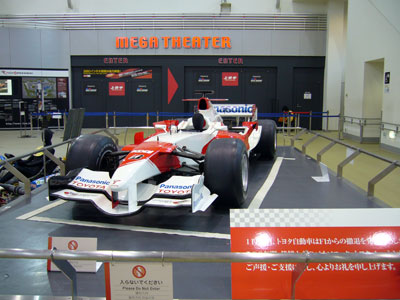 And we all had fun playing (and watching people play) the "test your reflexes game" hahaha… I took videos of my bros & Mom doing it too. A guy tried the "Advance" level and couldn't get a single "beep" right at all. Everyone who watched were laughing including the man himself LOL… We only tried the Beginner level, coz it was already very fast. Mom & I had scores like 36/60 and 38/60. Youngest bro had something like 53/60, and the older bro had 59/60. Only 1 miss haha.
Then the older bro drove a simulation car race, he had quite a good score too (according to the guy).
Outside the Megaweb, there was the Ferris Wheel and Zepp Tokyo. I took pictures of the first one, as you know Hikaru and Michi sat on it in "Majo no Jouken". And the latter was where Takki had the handshaking (face-wrapping and hair-ruffling) event for Ai Kakumei last year. I just HAD to take a picture of the venue even though I wasn't there for the event.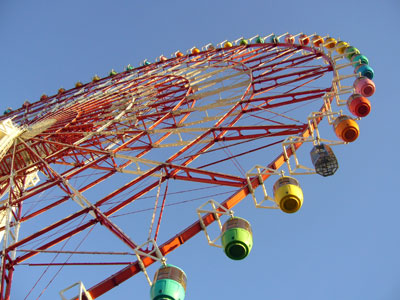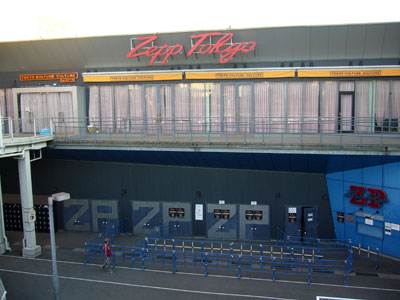 Then, we were cold and tired, and decided to have a rest and some warm drinks. We found a Starbucks and I had my favourite Matcha Latte. My bro ordered this nice tea latte which had a unique taste. I thought it tasted really good, but I forgot what it was lol. Perhaps the Black Assam thing? Hmm…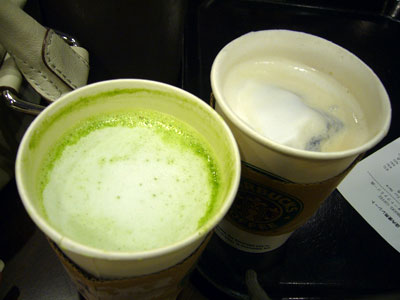 And we walked further into Venus Fort and found the History Garage.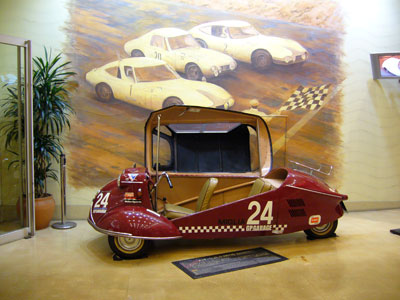 It was a short little round of ancient cars in very dark setting. So it was rather difficult to take photos. I don't really know much about cars either, so I was just trying to take photos lol. There were cars of all shapes and sizes and colors…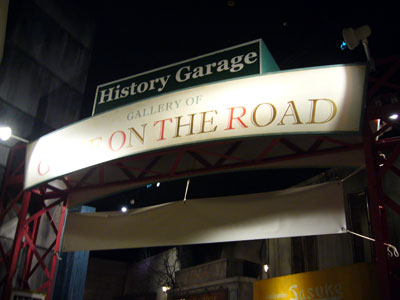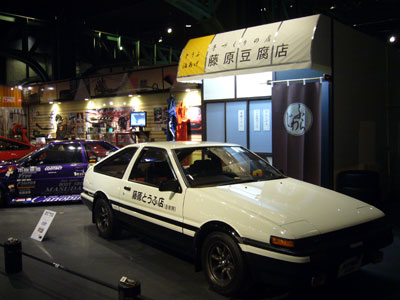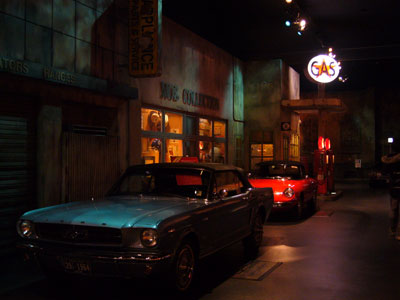 As well as (fake) fruit shops and (real) cafe like this one called "Bonnie's Bar". My bro saw it first and said, "Hey, your friend's bar". Hehe~~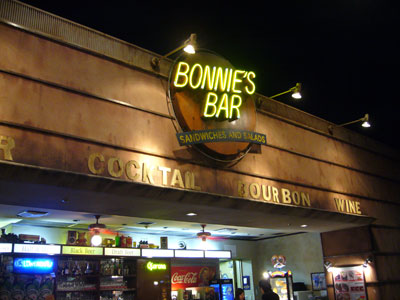 Then we walked around Venus Fort, and soon, the illumination was switched on. Beautiful blue lights lit up the blue "sky" ceiling.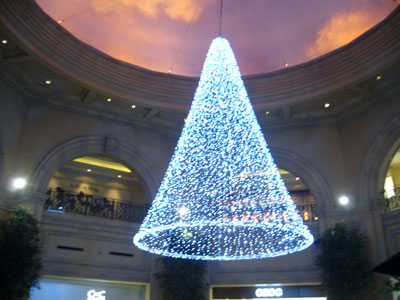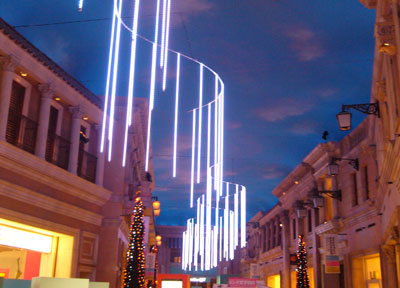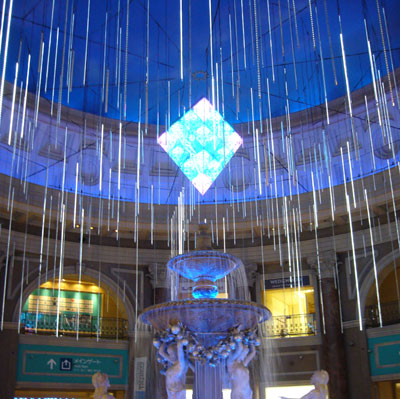 We didn't really had much shopping to do here, so we left the place and headed for the station. I took a picture of the building, and the Ferris Wheel — plus that bridge (can't really see it in the picture lol) that Michi & Hikaru hugged in that very famous scene of "Majo no Jouken" hehe…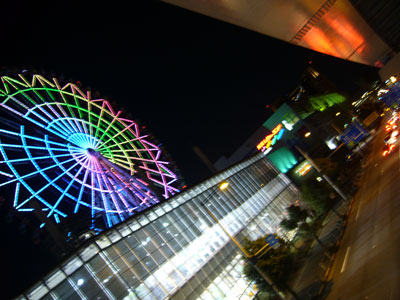 We took the train back to Daiba station again, to see the view of the statue of liberty, rainbow bridge & tokyo tower at night. But even though we braved the cold to get to the statue area, we couldn't find Tokyo Tower. After taking a few pictures, and of an illuminated flight of stairs that Mom liked, we seek warmth in Aquacity again.

Oh, and we also saw Fuji TV building at night, and the lights were changing colors as well~ I think there was pink and purple too, but this was the blue one.
After a toilet break and some Daiso shopping, we decided to leave Odaiba, and when we stepped out of the Aquacity, I gave the rainbow bridge a look and still no sign of Tokyo Tower… Disappointed, I turned my head and walked… And when I looked back again at the rainbow bridge, I suddenly saw Tokyo Tower starting to light up. From the bottom! We were so glad we decided to leave right at that time, and not earlier… or we would have missed it :)
We weren't accustomed to the early sunset here, and it had been dark for such a long time, so we didn't even realise it was only 8pm haha~ We got a bit excited again and tried to get good shots. It was tough coz it was dark, and flash wouldn't work at such a distance. So 'night mode' was our only hope. And without tripods, it was tough to get a non-blurry shot. This was probably the best I could come up with.
And I love the illuminated Tokyo Tower! I was expecting orange lights but this was purple-blue-orange!? Colorful and kireii~ XD We then headed back and along the way, I dropped by Takeshiba for a while to see the place at night. I took a shot of the ship sails thing again.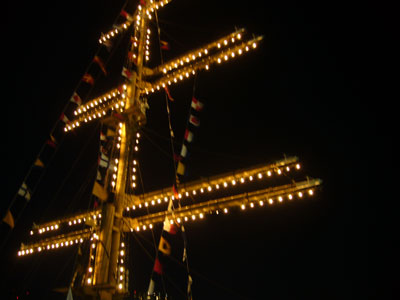 As it was really cold, I headed back to the station as soon as I can, and continued the journey back to Shimbashi.
Takirev'10: Day 6 (Shinjuku – Odaiba)