I ordered both volumes of the "Orthros no Inu" novels from Kino.
Each book cost about $15+ :)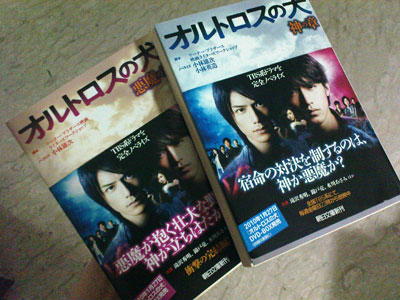 I haven't started reading yet, but I'll try to soon :)
I guess this is one of the ways I can improve my nihongo, since I've already stopped going for lessons… When I first got the book, I took a peak at the scene where Ryuzaki had a nightmare and woke up grabbing Nagisa's hand hehe~
I also ordered the "Orthros no Inu Official Photobook" from Kino. I think it cost $37.80. The original cover is black, but there's a paper sleeve wrapping it, that has Ryuzaki & Aoi's faces etc on it. And another smaller sleeve outside this, with Ryuzaki & Aoi's hands on it… When I first removed the smaller sleeve, I went "oh, the hands are gone!" (<-baka!) Maybe this was the "hint" to the ending that was mentioned during the event?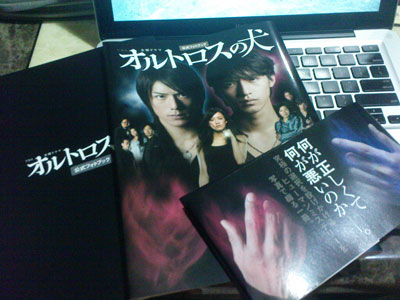 Anyway, there are many pages of scenes from the drama. From episode 1 to 8, in order. Many kakkoii pics of Ryuzaki, different angles from those shown in the drama. Like that pic with Masaru… kakkoii lol~ How I wish there are pics from the last epi too… from that dam scene! A pity, I think this photobook was released before the last epi was filmed…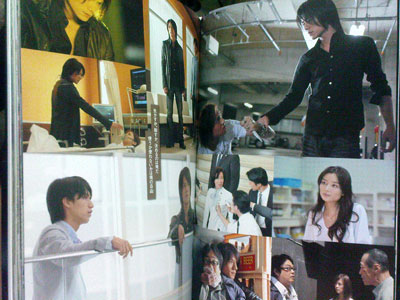 Then, the Off Shots!!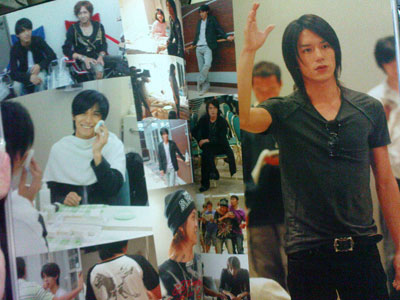 Loads of smiles :) And even one where a staff-san was demonstrating (on another staff-san) how Ryuzaki should hug Nagisa… Takki and Asami-chan were looking on, laughing :)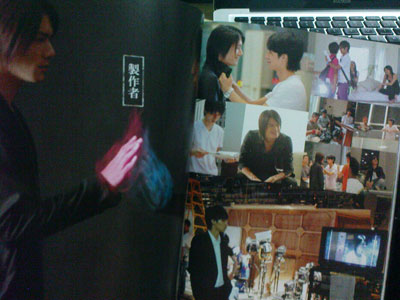 And this is my favourite off shot!! So cuuuute~~ smiling till his eyes can't be seen :) That's from episode 7 at the "hospital" ne. Actually, this pic is currently my keitai wallpaper :)
And the interview pages! Takki = 7 pages! Kakkoii~XD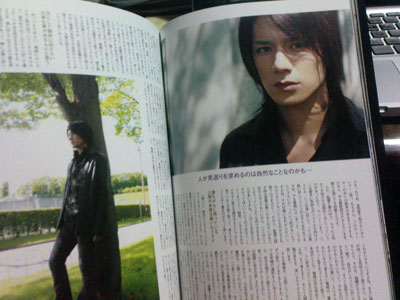 Then there are also interviews with the other cast members, directors, scriptwriters, etc… And when I thought that's it, towards the end of the book, there are another 4 to 6 pages which is a conversation between Takki and Ryo! This seemed to be done on the same day as the interview they had on Osama no Brunch (August 29th). They were dressed like in episode 6 :)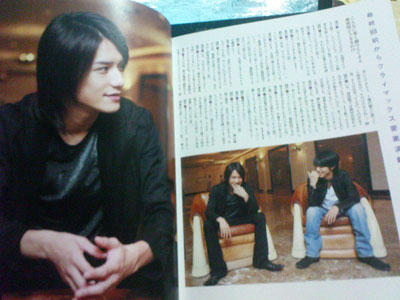 That's about what I took pics of with my keitai camera. Bf took my digicam to Switzerland so I've to make do with this for now.
Anyway, there isn't much news on Takki these days. He must be busy preparing for the 2 butais in Jan/Feb. But fans said that when Kanjani8 went on Hey!x3 few days ago, they played a VTR from Yattaru J (which incidentally was the show where Takki and Hina did the "Around the world in a week" corner, back when they still hated each other lol).
(When is the Takizawa Kakumei DVD gonna be released????!!!!!)