Received the package from S-san's friend this morning while I was making coffee in the pantry lol~ Of course, not all of these are mine… but here's part of the loot!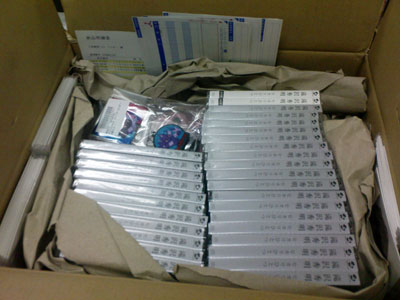 I had to stop my itchy fingers from opening the CD there and then… but I couldn't resist opening the postcard coz the one staring at me was so kakkoii! But one of the inner postcards is even MORE kakkoii~~~XDDD
When I reached home, I started the usual phototaking session haha… First the CD front cover and postcard, in their plastic wraps.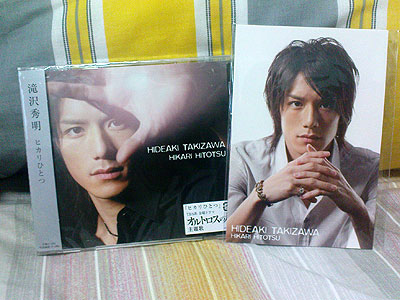 Then, the inner pics, lyrics book card plus the disc….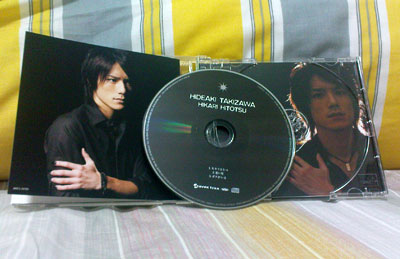 Jacket D has my favourite inner image (the one right behind the CD). It doesn't look as good here, coz of the reflection and angle…
And the image on the back cover is so kakkoii!!!!! Tono holding out his palm~ looks like he's asking for something? hehe~ I'd give you anything, Tono! =P It's my favourite back cover of all the four Hikari Hitotsu jackets! (Sorry, my cam is really lousy so the images don't turn out so well…)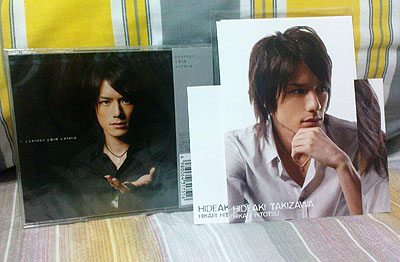 And that postcard ↗↗↗↗↗↗↗↗↗↗  is my favourite~~~ so kakkoii!!! He looks so good, whether in white or black! This is my favourite of all Tackey shop postcards so far (3 from Shalala/Mugen no Hane, and 3 from Hikari Hitotsu) XDD
As for the song "Boku ga iru", I think I already said before that I love it! Haha~ Takki's handwritten love song yo! I think we have to translate it soon hehe…
Finally, my little WanWan doggies!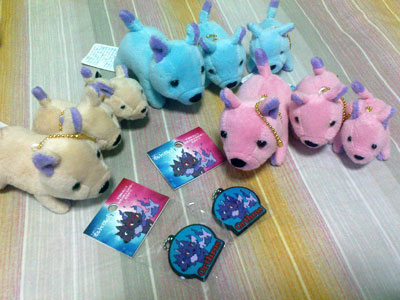 They're smaller than I expected, but so nice to touch! So soft and… I dunno how to describe haha. My colleagues said the pink ones look like pigs! lol~ I think the beige ones look like hamsters or rats… and another colleague said that the blue one looks like lack-of-oxygen bears hehe… but they're still kawaii~XD
I'll have to write about the photobook & novels too. Soon :)
Hmm… I wonder when the Takizawa Kakumei DVD will be released…