DHL is fast~ shipped from Amazon JP, and reached my office before noon the next day. But… the box was badly damaged, and I knew the discs would be affected — 2 of them were off their 'teeth'! And as I'm not at home now, I could only take pics with my keitai camera…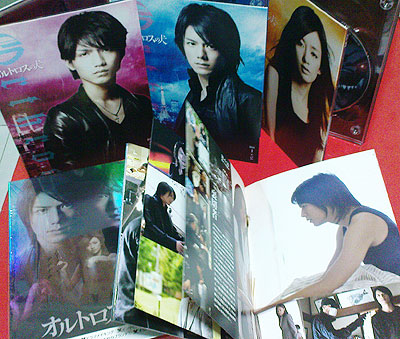 I'm so glad I got the First Press! Was worried as there was no indication from Amazon (unlike CDJapan). The bonus was a booklet – 24 pages – and there are some unseen pictures of Takki in it. My favourites are:
Ryuzaki & Mio at the playground (episode 3)
Ryuzaki in black singlet touching something by the window ledge (episode 6)
Ryuzaki looking at Aoi (episode 7 & last episode)
Ryuzaki outside the ER (episode 8)
Seems like one page of the booklet had "bent marks" on it (same as my Hikari Hitotsu Jacket C booklet!). Not sure how such things can happen… someone at the factory must have flipped my booklets before putting it into the box! Ryuzaki must have been too irresistible lol~
I've only watched Disc 6, the one with specials. Well, there was lesser new footage than I expected, and Takki didn't appear much in the Making footage, but… there were some precious footage. And loads of Takki smiles! XD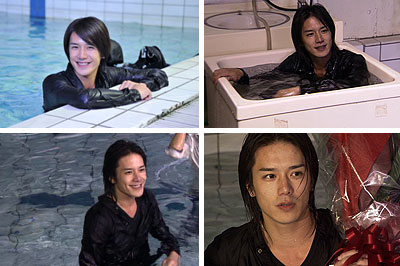 I love the filming of the last scene! It looks tough to film ne. And Takki's nose was slightly red~ but cute haha :) He was so adorable when he soaked himself in that small tub!! XD At the end when he said his crank up speech~~ honto ni otsukaresama deshita, Takisama!!! ☆
Filming of Title Back: Takki bowed slowly after the "Cut!" and walked slowly towards Asami and Ryo. He really looked so kakkoii just by posing, even if it's only a simple thing like raising his hand and looking at it lol. Asami said he was "suteki!" (cool! or superb!) and then, "sasuga Takki!" (as one would expect of Takki!) :)
Memorial episode: compiled edit of the drama, with video footage from episodes mixed with photos and screenshots. I especially love the photos at the dam! It's a pity there's no video of the filming! I wanna seeeeee!! *screams* The only video we got of Takki from that location shoot was during Asami's crank up speech.
Interviews with cast members: some of them were shown during the Making (Preview) before the first episode aired. I've only watched Takki's so far, and his was 8min 42s. There are also two "Osama no Brunch" videos that we've seen before~ now in DVD quality. And CM spots… 15s, 30s, many versions that kept going "kanashimi kakushite…" until my bf thought I was putting a video on repeat mode LOL! Umm, there's also the praying session at the shrine before filming commenced. And the press conference after that.
That's it for now. I haven't played the other discs yet. Will be re-watching the entire drama with Japanese subtitles! This way, I can improve my nihongo! *excuse for spending $$ on this DVD boxset lol~*