Received them this morning while in office. And immediately started sorting them out. This is the entire order from CDJapan — 21 discs in all!
Here are my thoughts on jackets A, B & C for now :)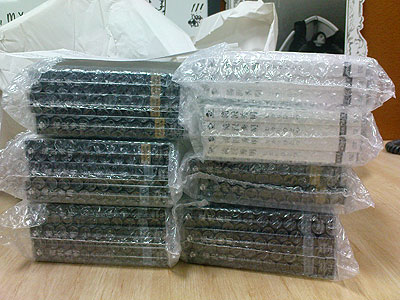 A pity the only camera I had was my handphone's, so the pictures aren't really so clear. Here are the front covers of my precious CDs :)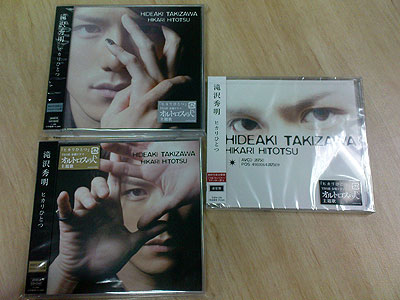 And the back!!! Kyaaa~~ I love that close up of Ryuzaki (back of jacket A), and that belt buckle ring on his pinky (back of jacket C)!! I want one like that too~~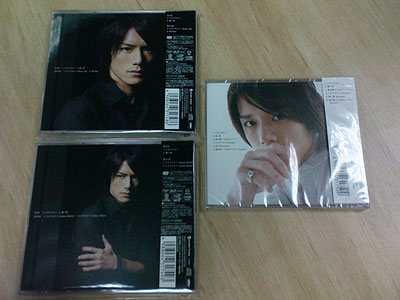 Now for the individual CDs and their inner images.
———-
Jacket A (CD+DVD)
Buy @ CDJapan / Amazon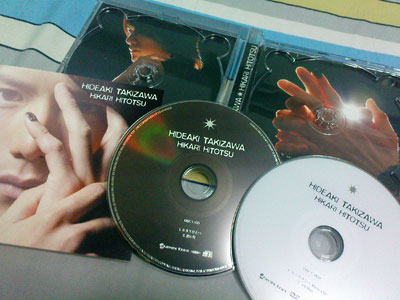 ———-
Jacket B (CD+DVD)
Buy @ CDJapan / Amazon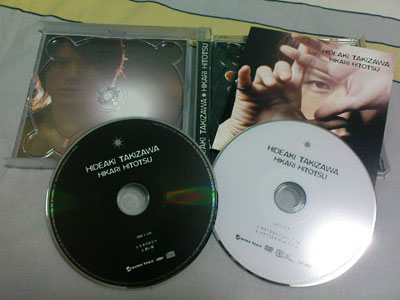 ———-
Jacket C (CD)
Buy @ CDJapan / Amazon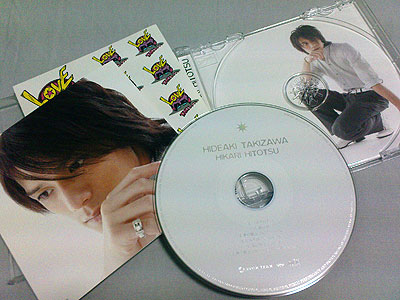 ———-
Conclusion on the covers, backs & images (among Jackets A, B & C ONLY!):
Favourite front cover: Jacket B
Favourite back cover: Jacket A
Favourite inner pics: Jacket C
Now onto the content. I'll start off with the DVDs:
ヒカリひとつ Music Clip (Jacket A)
KYAAAAA!!!! This PV is fully on TAKKI!!!! CHOU KAKKOIIII!!!!! ♥ I'm gonna die just with the way he stares at the camera hahaha…. I love this one more than the Drama Clip version (in Jacket B, which is the same one we saw on Space Shower).
———-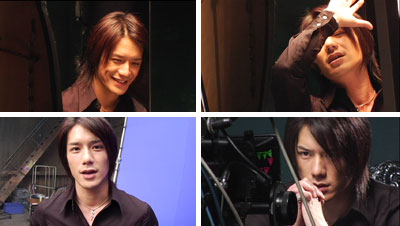 ヒカリひとつ PV Off shot (Jacket A)
Kawaii!!!! XDDDDD The way Tono smiles, those little actions he did~ the serious look and then suddenly become the cheeky grin bwahahaha! and when he was walking down the stairs, he sang the lines "moshi yurusareru no nara…" followed by "kaeritai~" (I want to go home~) LOL!
———-
ヒカリひとつ Drama Version (Jacket B)
This is the same one that we saw on Space Shower. And although I prefer the Music Clip version, this one is really cool too coz there's Ryuzaki and his famous "What will you do for me?" line fufufu~
———-
ヒカリひとつ Anime Version (Jacket B)
This one… is the short version of the song, and it's fully animated. Honestly, I don't really like this, as the Ryuzaki looks so ugly lol!!
———-
And then for the songs:
ヒカリひとつ
No need for me to mention again~ I LOVE THIS SONG! From the first time this song was performed (as Medusa no Kagami) at Takisamacon on 6/28, till after the change of the entire lyrics~~ and now I love it even more after watching the drama…. Ryuzaki!!!!! 竜崎大好き〜 ♥
———-
悪い男
Hahahaha~ jin jin! LOL! When I first heard it on Denpajou, I just found it funny and didn't really think much of the song, but it's a really naughty song, it seems. And hearing it on CD is so much nicer (and naughtier haha)~~XD Kat & I were jinjin~ all the way back home just now LOL
———-
TAKIレンジャー
Wahahahaha~~~ it's such a funny song! While listening to the full song for the first time, I LOLed at least twice!!! First was やっぱり最高後はTAKIレンジャー and then the 永遠のスーパーヒーロー also made me laugh hahaha….
———-
If you had to give up one version of the single, I suggest giving up Jacket B. But you HAVE to get Jacket A & C! And DEFINITELY Jacket D (which is still with my friend's friend in Japan~)!!! Coz… I've heard a sneak preview of 僕がいる, and I REALLY LOVE THAT SONG!!!! I think the melody is nicer than 手紙, and the words… let's just say, if he sings it to me, I'll DIE on the spot LOL. The music is really nice too… and I also heard the postcards are very pretty! (Please don't show me how they look like yet, I wanna be surprised when I receive my Jacket Ds :D)