The Packaging
I was too happy when I got my discs… that I wanted to watch them immediately. Hence, I just took a quick shot of everything with my cellphone camera — which means the quality of the image below is bad. Sorry.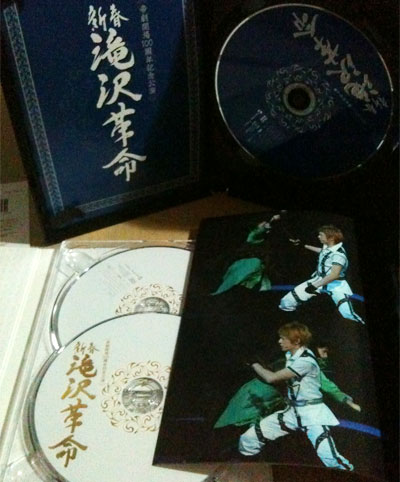 The bonus booklet in the Limited Edition (LE) is fully on Tono! 36 pages from "SHOW" all the way till "Ai Kakumei (ending version)". I love the above pics coz he looked so kakkoii even in motion!! That's of course my favourite outfit from the show! The booklet can be fitted nicely into the pocket on the left side of the discs. The discs are white with gold designs in the middle, like its cover. Simple, but pretty IMO!
The Regular Edition (RE) has, like its cover as well, blue discs with white prints in the middle. And although it's only a minute detail, I noticed the buttons where you 'press to release the discs' are flower-shaped.
The Content
I was surprised to see English "copyright/warning" message at the beginning of the discs. I have the impression that they're usually only in Japanese? Anyway, juz wanna say, nothing beats watching Kakumei LIVE!! But here are still my random thoughts…

Disc 1 – Act 1
(Found in both LE & RE versions)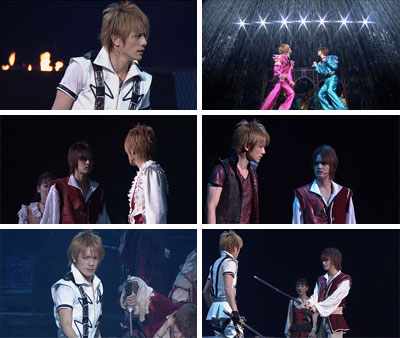 Ah, opening video title BGM (background music) is SHOW instrumental!
SHOW: I still can't catch the non-Japanese words they're singing lol…
But heck… I love the dance at the top of the platform during the bridge part!!
Can still remember how *kirakira* Tono was when he was flying on that rope. It doesn't look much on DVD, but that was something I liked when I was at 2nd floor.
Ahhh~ that "zaaaa" sound of the water gushing upwards~
Oh, first time for me seeing Yuma do the rope stunt!
Ah, now I can see their expressions clearly. I love how Yuma was pissed with Hideaki for wanting to leave the forest and head for the sea…
Love how Hideaki jumped into the water (after the fire arrows hit the ship)
Seeing the magic trick – where he changed from black suit to white tuxedo – reminds me of the miss on 1/14 lol! Somehow, after that incident, watching this will never be the same again lol!
DEEP! I never knew what Nikki-san was doing coz I was always focussing on Tono's little 'act' at the side. Didn't know that MSM were dancing too. And I like the water effect (moving up and down) towards the end…
Miracle World!!!! I really *LOL* when Yuma and one of MSM's members seemed to freeze facing each other! Then Takki hit Yuma on the head haha~
If only they showed the 1/13 show version of the 'opening the treasure box' i.e. the bday song
Oh, that execution scene of Hideaki & Yuma's mother…
Tono looked so kakkoii even when he was sweating like crazy!!!!!!
Love the "One Night (trio version)", but I think Hime's voice was a tad bit piercing. If only they made it a 'duo version', just Takki and Yuma hehehe~
KYAAAA!!! The ship moving in from the right of the stage, crushing the 'pillars', with kirakira Hideaki in white!! I love that scene~ Kakkoii!! Takki's voice is really deep and strong on stage ne! Can tell his years of stage experience from the way he projected his voice~
Nice BGM!!! Pirates of the Caribbean-like :)
The arrows shooting at Hideaki – kakkoii! — and the dive too!
And after that dive, my favourite part of the BGM where the beat changes…
And then, finally, my favourite scene of Act 1… where the two brothers fight each other… the way Hideaki looked at the sword when Yuma pointed it at him…
And finally, my favourite line was when Hideaki shouted "Yuma! Come to your senses!" ♥

Disc 2 – Act 2
(Found in both LE & RE versions)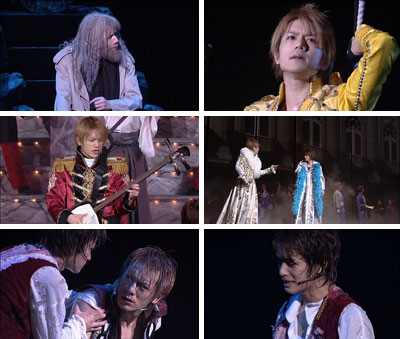 Hidejiji flying down slowmo~ kawaiiiii!!
Hidejiji hugging the guy in black~ bwahahahaha!!
Chibi Hideaki's "Takki, there is video recording today, so don't trip on your words!!" wahahaha~~ but Hidejiji's reaction after that was even cuter!!! His sudden turn of the head, followed by the snigger haha…
Yumajiji's mushy "anikiiii~~~" and Hidejiji's "kimochi warui naa~" XD
Lol~ my mom commented that Yumajiji looked like Sun Wu Kong (Monkey God)!
And Nikkijiji made Hidejiji *LOL*, literally! So fun to hear Takki laugh out in the middle of the act… Can see him shaking even though he turned to the back. Yumajiji was also trying not to laugh out haha.
100 years ago: Yuma, the big star lol~ and OMG, the guy who was announcing the start of Yuma Kakumei is Takada Sho (he was Yuma's catcher in "Battery"!). I didn't even know he was in Kakumei!
Aww, poor thing, "Takizawa Kakumei" got cut (Takki did the "slit the throat", followed by the "crying" action lol) and Yuma flipped his blue boas backwards like a big star lol!
Then Takki became a Yuma fan~
Ah, I see them spinning around behind the stage before running away.
Love the entire Jr. tap dance segment & that song Yuma sang!
KYAA~ THE FACE-CHANGE!! "Boku no Kakera" music is soooo niceeeeeee… and my favourite is the last part where he grabbed the girl's waist and was surrounded by many girls, then moved downwards very slowly…
I swear the shamisen playing was much more kakkoii in person~ but nonetheless, it's still one of my favourite parts of the DVD! They just never really showed Tono strumming and singing at the same time… only a bit at the end.
Hyakunen Romansu!! I LOVE this song~
Oh, didn't know Yuma actually ran in the air lol… he was definitely injured when I was there ne~ I couldn't recall much on what went on on stage coz I was always looking towards the ceiling at Takki hehe. Now I know who sang what parts, and that ABC-Z, MSM, Hime, Yuma & Jrs were all on stage.
Love how Takki stood on the pole and sang~ so sweet, his voice ♥
The bungee doesn't look as scary… because of the beautiful voices of Nikki and Hime-san, this time it looked rather relaxed. I love Takki's final hand move at the end.
Is that Yuma & Hime's baby? Oh, actually I think Yuma looks good in green lol.
Still don't really like this year's Hime…
Final waterfall stone structure: I remember we could hear the sound of the water flowing…
Ah, that change of music when the baddies circled Nikki-san…
Black out… then Yuma blindfolded standing in the middle awaiting his execution…
And my eyes was on that guy in black on his left fufufu~
Wah! So much water! LOL! Looks slippery!
KYAAAAAAAABBBS!!!!!
Chikubi! hehehe~ *hides*
Yuma needs to tone up more lol~ But that 'gets katana kicked out of hand – gets kicked on face – gets smashed on the ground three times' sequence was really well done~
I LOVE THE BGM!!!
Uwah~ Tottsu looked really evil and crazy hahaha…
Yay! The brothers killed Tottsu!
You evil Queen, how dare you stab my Hideaki! Yes, Yuma, go kill her!!
Boku no kakera!!!!!! That scene when Hideaki's eyes were closed… and Yuma faced him to sing THAT LINE that always made me cry back in January… I didn't cry at all this time~ but I still remember it was that same look, the only time I used my binocs on Yuma… and I think it was his best scene. I was lucky~
Yappari, Takki is the KAMIKAMI prince!!!
"Ko… kotoshi wa… ehh…. umm….. ehhh……."  *ROFL*
He kamikami-ed 3 times during the speech! Kawaii!!
Seems like my favourite parts of the DVD are in Act 2 (disc 2)…
Ah, and before I forget, I love the ending credits BGM! Boku no Kakera piano version~♥

Disc 2 – Senshuuraku footage
(Found only in RE version)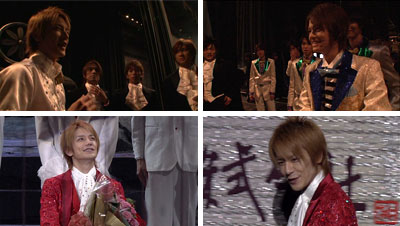 Tono-sama, compared to Hasshi, your height… *zips*
"Yuma, if you're standing there, you won't appear on the video yo!" hehe~
Yuma & Hasshi are of the same age, but are complete opposites rite. One wants to appear on camera, while the other seem to be hiding from it lol~
Wahaha! Kawai pulled a mic out from his back pocket!! "Finally I get to talk~" lol!
Takki said there will be Takizawa Kakumei in 2012!!! Guess it was to assure us fans that he's not going to give up his Kakumei that soon :)
Flowers from Mori-san!!! Yuma, Takki & Nikki were looking at each other, didn't know how to accept lol~
Kyaa! Takki came out again for 2nd curtain call! He said he got injured during the Kakumei of past two years (yah, that incident where he fell from the rope was so scary~~) but this year he managed to stay injury-free *pachi pachi*. He thinks that he's still young! haha!
KYAAA!! That funny face he gave the audience before disappearing behind the curtains! That's similar to the one he did during Takizawa Kabuki's opening show this year!
Eh? That's the end? Noooooo… it's too short! I WANT MORE!! :(
Sorry for the randomness! And excessive fangirlish gibberish~ It's a pity that there isn't a full behind-the-scenes documentary on this production. It would have been perfect… But I shouldn't even be complaining. I'm already very very happy that we got a DVD for this! (^-^)v
===
Takizawa Kakumei DVD
LE (Limited Edition) @ CDJapan | Amazon | HMV | Tower
RE (Regular Edition) @ CDJapan | Amazon | HMV | Tower