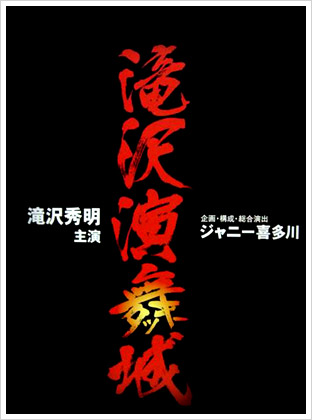 Title: 滝沢演舞城 Takizawa Enbujou
Venue: Shimbashi Enbujou, Tokyo
Dates: 7 March ~ 25 April 2006
No. of shows staged: 74
1st Segment: History of Japan.
Mask-changing performances, magic tricks, etc.
2nd Segment: Yoshitsune.
Takizawa Hideaki as Yoshitsune, and other supporting cast includes Kanjani 8's Yu Yokoyama (as Yoritomo) and Ohkura Tadayoshi (as Benkei), Yabu Kota, Hikaru Yaotome, MAD, ABC, Kiss-My-Ft2, etc.
3rd Segment: Tackey's World.
This is the mini-concert segment~ T&T/Takki songs and dance :)
Official DVD:
Release Date: 18th July 2007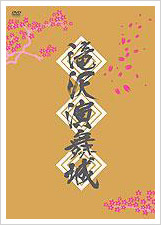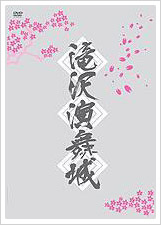 First press (left) includes special packaging and a B2 poster.
Pre-order @ CDJapan | Tower | Shinseido | Amazon
Notes:
Takki, at the age of 23, became the youngest male zachou (chairman and overall in charge of the production) in history of Shimbashi Enbujou.
Takki was given a choice by Johnny Kitagawa to either do Enbujou or another stage production in Las Vegas. He chose Enbujou.
Takki takes on the onnagata challenge – crossdressing as a woman. There are a few scenes where he dresses and acts as a woman. And fans have mentioned that when they see him live on stage, he really looks like a woman, very pretty. His poise and actions were very accurate. However, his manly features show up more on TV and in pictures.
The official logo of Takizawa Enbujou — the bottom part of the kanji of "bu" is actually Takki's name in katakana.
There are Takizawa Enbujou-limited food on sale at the venue. There is a takikomigohan set, which costs 4,000 yen, and a cheaper bento set at 1,500 yen, among others.
The capacity of Shimbashi Enbujou theatre is 1,428.
Goods: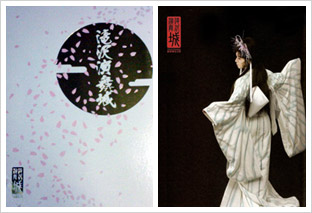 Postcards (5 sets of 3 cards) – 500 yen each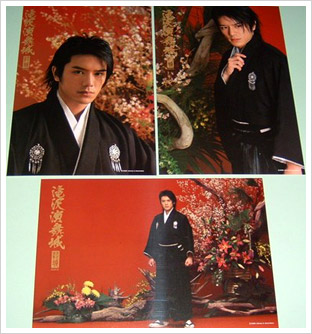 (Pic Credit: shiawaseseki.blogspot.com)
Poster (2 types) – 800 yen each
Shopping bag – 500 yen
Photos (many types) – 800 yen each
Fire incident:
A fire broke out during one of the shows on 23rd March 2006 (a few days before his birthday). It happened during the performance, and the fire started from backstage. The stage was closed, and the audience were ushered out of the threatre. Some fans, while leaving the theatre, heard Takki shouting for the juniors to leave.
As Takki is zachou, he had to make sure everyone was safe. Until the fire was put out, he was still backstage. He was the last person to leave. Although the jimusho did not require him to do so, he issued a public statement of apology. In the statement, he said he felt really sorry that the show was cancelled, and that he had caused trouble and worry to the people in Shimbashi area, as well as to audience who travelled from faraway places, fans who came for the first time. He will add shows and they'll try their best to rebuild the set. He also apologised to everyone in his Takiren Vol. 208 (March 24, 2006).
The next day, he told everyone in Takiren Vol. 209 (March 25, 2006) that he went to the venue, and seeing the empty audience seats evoked some feeling (of emptiness) in him. The show will reopen the next day, and he will work hard to earn their applause again. His recorded voice message was played from a van driving around that area. Although nobody blamed him for this incident, it seems like he couldn't forgive himself.
After this incident, light effects were used instead of fire.
The above was taken from various blogs as well as accounts of the incident from fans.
Screen Captures:
coming soon…
Photographs:
coming soon…
Icons:



More here.