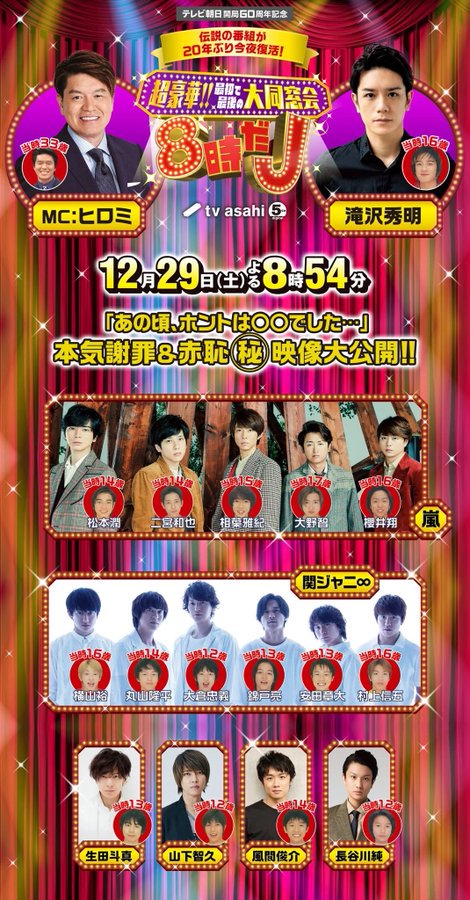 12/13: updated with official poster
Good news! TV Asahi's 60th Anniversary special bangumi 「Super Deluxe!! The First and Final Big Reunion! 8jida J」 will air on 29 December 2018 at 8.54pm JPT. 「8jida J」 was a popular prime time variety show aired 20 years ago, from April 1998 to September 1999. Its hosts were Hiromi and Takizawa Hideaki, and it featured about 60 Johnnys Jrs. in every episode. The bangumi also achieved a rating of 13.6% then.
They are bringing back the show just for one night, and it's expected to be Takki's final appearance in a variety bangumi. The Jrs. back then who have become household names in Japan now will also appear in the show. That includes Arashi, Kanjani8, Yamapi, Toma, Kazama Shunsuke and Hasegawa Jun. In this Comeback Special, they will look back at their Jr. period in a quiz format. It'll be Takizawa-led Johnnys team vs a team of celebrities. Furthermore, possibly-embarassing footage from their Jr. period will be shown in VTRs :)
The recording will take place soon, and they will all gather in the same room. Takki is delighted to be able to reunite with his friends through this bangumi. "I'd like to enjoy it as though it's a class reunion, looking back at my teenage period."
I've posted some episodes here before (but I understand most or maybe all of the links have been taken down~). I've always enjoyed watching the J-1 Grand Prix segment ne. When and if I have time, I'll reupload the files and continue where I left off~ (if my files are still working that is heh~). For now, I'm really looking forward to watching this SP!