[Update: Added Super Morning & Wide Scramble]
Yay~ It was shown on the morning news today!! I'm gonna miss the afternoon news but at least I've caught the ones on Yajiuma Plus. In the first clip, they focussed more on Takki. He was asked about the drama. They also talked about Takki & Tacchi, the "new unit" :) So funny~ Tacchi said that he only appeared in that one scene of the drama, why is he campaigning from Hokkaido to Kyuushuu!! LOL!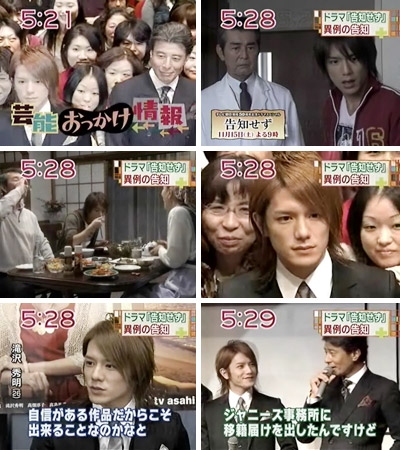 Then for the 2nd clip shown about an hour later, the focus was more on Watari-san and Tacchi. But they had more information on the Bullet Tour and showed how Takki & Tacchi travelled by airplane from Sapporo (which was snowing) to Fukuoka on 4th Nov. They also showed a few seconds of footages from those venues. Then they took bullet train on 5th Nov to Osaka, then to Nagoya, and finally reached their "Goal" at Tokyo XD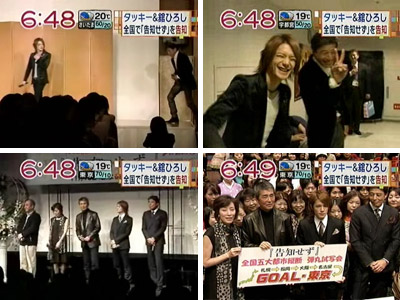 Super Morning also carried reports on the premiere ne. Some really nice visuals shots of Takki here, although they are super short footage. Since they had cameras while they were travelling, probably the footage will be included in the DVD? *prays*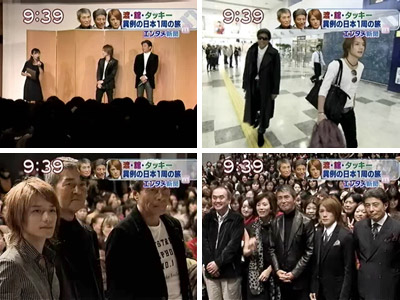 Wide Scramble also carried footage, many good visuals of Takki here again!! And we have him telling us where's the next destination! Haha~ They also showed a couple of shots of audience's crying.. Ahhh, I can't wait to watch the drama!!!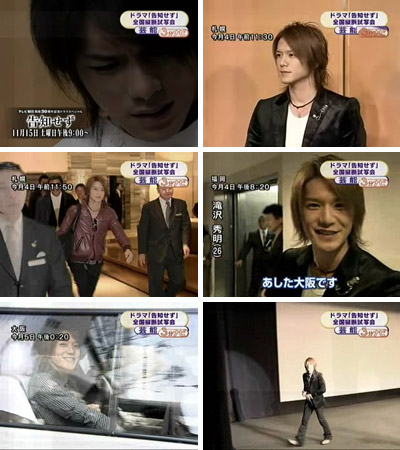 And here are some newspaper reports.
From Sponichi Annex:
「告知せず」TVドラマ初の弾丸試写会

 俳優の渡哲也(66)主演のテレビ朝日開局50周年記念ドラマスペシャル「告知せず」(15日後9・00)の「全国5大都市縦断弾丸試写会」がこのほど行われた。がん告知をテーマに家族のきずなを描くドラマ。4日に札幌、福岡、5日に大阪、名古屋、東京の計5会場で試写会を開催し、出演者が舞台あいさつ。ドラマでの弾丸試写会キャンペーンは史上初。各地で女性のすすり泣きが響き渡った。

 渡は「"なかなかいいドラマじゃないか"と思った方はご家族、ご近所、友人に15日に見るようにおすすめください。いまいちという方はくれぐれも内緒に」とジョークを交えてアピール。弾丸試写会について「このような新しいキャンペーンの効果があるのか、(視聴率の)結果を楽しみにしています」と語った。

 渡は大阪、名古屋、東京をめぐり、妻役の高畑淳子(54)が東京でPR。全5都市を訪れた、渡の息子役の滝沢秀明(26)とグアムの医師役の舘ひろし(58)は2日で計3500キロを移動。滝沢は「(告知せずを)3回見て毎回泣いた。皆さんの期待に添える作品で全国を回ることができて気持ちよかった」と笑顔。舘は「"タッキー&タッチー"で今後CDを出したり、ドラマや映画をやりたい」と語り、観客を笑わせた。
From Hochi:
タッキー&舘ひろし2日間で3500キロ"完走"

 俳優の渡哲也(66)が主演するテレビ朝日系ドラマスペシャル「告知せず」(15日・後9時)の出演者らがこのほど、全国弾丸キャンペーンツアーを行った。2日間をかけて5大都市で行われた試写会で舞台あいさつをするというもので、関係者によると「ドラマでは史上初の試み」という。

 滝沢秀明(26)、舘ひろし(57)の2人は4日に札幌を起点に福岡へと飛び、5日に大阪→名古屋へと移動し、同日夜に東京でゴール。総移動距離約3500キロ。滝沢は途中「一体ここはどこだ?と分からなくなってきた」と話したが、ゴールを迎え「ドラマではなかなかできないこと。それほど僕らやスタッフに自信があるからできる」と、胸を張った。

 舘も1シーンの友情出演ながら"告知"に奔走。地元・名古屋では「久しぶりどころの話じゃない」と、代表曲「泣かないで」まで披露。グアム・ロケ中に撮影したPR番組(15日・後1時59分)では滝沢とともに"主演"。がん告知をテーマにしたシリアスな本編とは対照的に、滝沢とグアム観光する様子などを収録。舘は「メーキングの視聴率の方が気になる。本編はどうでもいい(笑い)」。

 2人のほか、渡は2日目の大阪から、高畑淳子(54)は東京で合流。3都市を回った渡は、疲労感を口にしながらも、号泣する観客に手応えを感じ「どれほどの効果があるのか、結果(視聴率)が楽しみ」と、期待を込めた。
From Sanspo:
渡哲也1泊2日で5都市3500キロ

 タッキー&翼の滝沢秀明(26)と俳優の舘ひろし(58)が、渡哲也(66)主演のテレビ朝日系スペシャルドラマ「告知せず」(15日放送、後9・0)の5大都市縦断弾丸試写会ツアーを敢行した。

 4日から1泊2日で札幌→福岡→大阪→名古屋→東京を巡るドラマ史上初の"強行行脚"。その総移動距離3500キロを滝沢と舘がフル参戦。渡は5日のみ大阪から3都市を回り、最終都市の東京で女優、高畑淳子(54)が合流した。

 初雪を観測した札幌から暖冬の九州、本州を巡ったタッキーは、がん告知を通じ、家族愛を伝える物語に涙する"全国"の反応に感激。「3回ドラマを見て3回とも泣きました。タイトルは『告知せず』ですが、ぜひ、いいドラマだと告知してください!」と猛アピールした。友情出演の舘は、故郷・名古屋で代表曲「泣かないで」を6年ぶりに公の場で披露するサービスで沸かせた。

 東名阪を新幹線で駆け抜けた渡は「初体験の弾丸は疲れました。年をとったのかな」と苦笑しながらも、「お客様の拍手が私たちの力になります」と手応えを感じていた。
From Nikkansports:
「告知せず」5大都市回る弾丸試写会

 テレビ朝日系ドラマスペシャル「告知せず」(11月15日、夜9時放送)の全国5大都市弾丸試写会が4日から5日にかけ、敢行された。札幌、福岡、大阪、名古屋、東京と、主演渡哲也(66)滝沢秀明(26)、友情出演の舘ひろし(58)らが舞台あいさつ行脚。ドラマとしては異例の大キャンペーンで、2日間で総移動距離3500キロを駆け抜けた。
I'll come back and edit this post later ne, but for now, maybe I'll take a short nap, then prepare to leave for work :)