During the Takizawa Hideaki X'mas Show yesterday Takki announced that he will appear during the Johnnys Countdown at the end of this year. Not alone but with Imai Tsubasa for the one last time as Tackey & Tsubasa.
Today, Avex also announced that T&T will release a best album called "Thanks Two you" later this month. It'll include all songs from their singles and albums – a total of 44 T&T songs. There will also be 12 solo songs each. The DVD/Blu-ray will contain MVs of 26 songs, and offshots from 21 MVs. There are 3 types in all, and it seems like different shops are giving out different bonuses as well. Details of tracks & bonuses are listed here at Avex.
Tackey & Tsubasa "Thanks Two you"
Release date: 26 December, 2018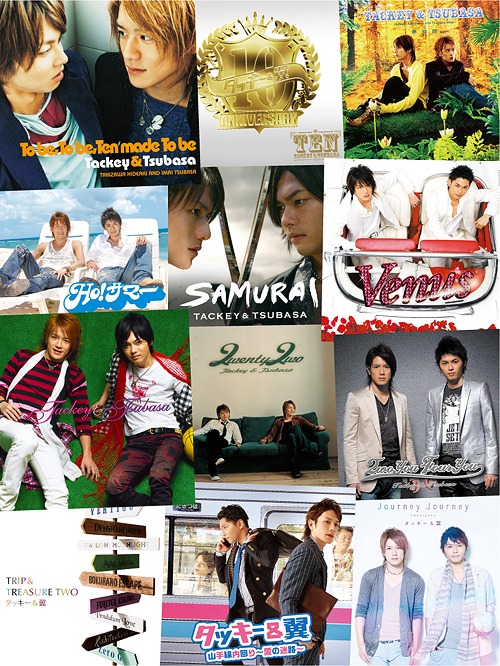 Purchase @ Amazon JP | CDJapan | HMV JP
Avex's Mumo shop also allows fans to have their names on the jacket & sleeves — details here
Now on to the dinner show itself, here's the set list:
Kioku no Kakera
Boku no Kakera
Introduction of the band & dancers
894
Detroit
Negai
Q&A Corner
"Thanks Two you" CM & "Kokou no Mesu" PR video
Christmas Eve
Hanaka
Kiseki
Words of Love
JOURNEY
Hi no Ataru Basho
Hitomi wo Tojite
WITH LOVE
The item on display were his Hachioji Reform uniform, cap, etc.
https://twitter.com/t_t_kana/status/1070236964668899329
During the Q&A session, he talked about how during his Jr time, they actually danced like 20 songs in a day, and everyone was trying hard to remember all the moves. Now, even 1 song a day is impossible for him lol.
Q: From now on, what should we do to see Takki?
A: Basically I'll be doing a lot back stage. At this point of time, I have no intention to appear in front.
Q: I hope that we'll be able to see Takki in the future
A: I think everyone has voiced out their thoughts that they've kept in their hearts. I think it'll be good if it's possible (to show myself again), but I can't think of how now so I think it's wrong for me to promise something so easily. I did think that perhaps I could promise that it'll happen one day, like what I've been doing till now, but this time I don't wish to do that, I'd like to be serious about it so I'm unable to so lightly make such a promise. I don't know how or if it will happen, but I'd like to start thinking about it from next year onwards. I'd like to give it my all now.
I think Takki wanted T&T to appear during the Countdown cos he knew that as T&T, they have promised their fans that they'll come back, so he wants to keep that promise. He said he spoke to Tsubasa, and although Tsubasa has already left the jimusho, they will still make an appearance during the Countdown, for the last time. I really respect Takki for that.