The documentary aired on NHK earlier "Takizawa Hideaki's Expedition to the Volcanic Mountains — Uncover the Mystery of a Large Caldera" will be released on DVD on 12/12!
Actor and singer Takizawa Hideaki explores the Kikai Caldera, a huge volcano off the coast of Kagoshima, southwestern Japan. This volcano is known for its massive explosion that took place 7300 years ago, which is said to have devastated the Jomon culture of the Kyushu region. He will unravel the secrets of this beautiful yet threatening volcano.
Cast:
< Appearance > Takizawa Hideaki
< Narration > Takizawa Hideaki, Nakajou Seiko
Originally aired on NHK on 30 May, 2018.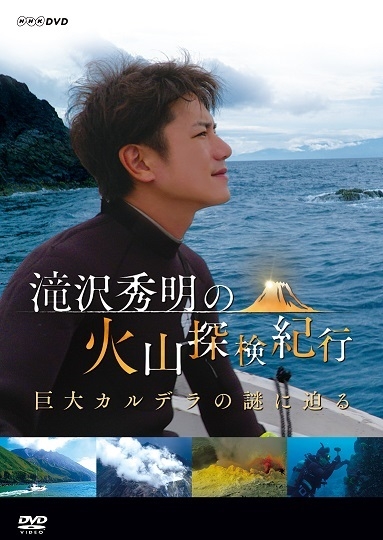 Takizawa Hideaki no Kazan Tanken Kikou — Kyodai Caldera no Nazo ni Semaru DVD
Release date: 12 December 2018
List price: 4,104 yen (incl. tax)
Type: Documentary
Runtime:  Main 89mins + Bonus approx. 15mins
Stereo, dolby digital / 16:9LB
・Bonus Footage (subject to change)
1. Living on the Island of Satsuma Ioujima
2. Special Training of Rock Collection on the Scorching Hot Island (approx. 15mins)
・ Included Bonus (subject to change)
Leaflet  (Program director's notes)
A pity this is a DVD-only release. I was hoping for blu-ray fufu~ But still, I feel this is a must-keep for Takki fans, kinda similar to the J's Journey he did years ago. This DVD currently ranks no.1 on the sales chart of Amazon's DVD documentary section, and the jacket/cover hasn't been revealed yet. I'll update again if it's revealed ne~ [Updated 8 Oct 2018: The jacket has been released, and I've added it above!]
"Takizawa Hideaki's Expedition to the Volcanic Mountains — Uncover the Mystery of a Large Caldera" to release on DVD