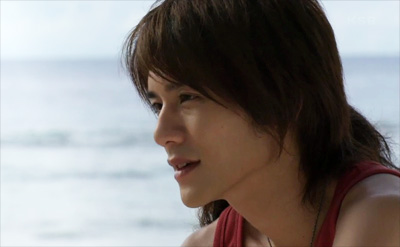 Drama Info:
Title: 告知せず
Title in Romaji: Kokuchisezu
Title in English: The Withheld Notification
TV Station: TV Asahi
Air Date: 15 November 2008, Saturday
Air Time: 9pm to 11.21pm
Rating: 19.6% (Tokyo), 22.1% (Sapporo), 21.0% (Fukuoka)
24.8% (Osaka), 24.5% (Nagoya)
Official website: http://www.tv-asahi.co.jp/kokuchisezu/
Director: Kiyoshi Sasabe
Filming Location: Yamanashi, Japan & Guam, etc.
Cast:
Takizawa Hideaki as Hasegawa Ryo
Watari Tetsuya as Hasegawa Seiji
Takahata Atsuko as Toko
Tachi Hiroshi (Guest appearance)
Takishima Reiko (Guest appearance)
Storyline:
Hasegawa Seiji (played by Watari Tetsuya), a surgeon who specializes in respiratory organs, believes that with the advancement of medicine and a wide range of treatments nowadays, informing patients of their illness is a requirement for them fighting to the end. But one day, his wife, Toko (played by Takahata Atsuko) is diagnosed with cancer of the small intestines. When it comes to his own wife, he finds himself shaken. Takki plays their only son, Ryo, a houseman (trainee doctor).
Premiere: (Media reports)
PR TV appearances:
Related links:
** Disclaimer: All media and information posted here are for promotional purposes only. They are strictly not used for commercial purposes, and no copyright infringement is intended.