[Two You Four You]
Also known by fans as: 2U4U, 2wo You 4our You
No. of versions: 3
Release Date: 15 November, 2006
No. of copies sold: 98,534 (as of Dec 2006)
Weekly Peak Position: #3
CD+DVD Version
(Comes with DVD which includes Venus and Ho! Summer off-shots, Izumo concert backstage and Izumo con footage)
Price: 3,333 yen (3,500 yen incl tax)
Purchase @ CDJapan | HMV | Amazon | Towers
Limited Edition
(Comes with Karaoke CD and special Takitsuba radio show)
Price: 2,913 yen (3,095 yen incl tax)
Purchase @ CDJapan | HMV | Amazon | Towers
Regular Edition
(Comes with Bonus track "Kakko Tsukanai Tonight")
Price: 2,913 yen (3,095 yen incl tax)
Purchase @ CDJapan | HMV | Amazon | Towers
My thoughts:
They kept up with the naming of albums. Well hidden~ LOL~ Two You Four You, The "24" is still hidden nicely in the title, although this album was released after Tsubasa's birthday (Tsubasa turned 25 a month earlier). A pity the album covers are not as well-designed as they COULD have been. Coz don't the boys look fierce?? In my opinion, the songs in this album are REALLY NICE!!! And the DVD footage is priceless!!! Packaging is really important, Avex!!
Taken from my initial review:
CD+DVD
First thing I did was to open the CD+DVD and played the DVD lol~ I started KYAAAAAAAAA~~~ing so hard when I saw the Ho! Summer Saipan off-shots! These shots are the best! DA BEST! So kawaiii, although it was so freaking short!! And I also love the Izumocon rehearsals and backstage footages too!! Sugoi~~ but I din really like Takki's hair then so I wasn't too particularly kyaaing during the concert footages itself (I prefer Go!Con's LOL~). Here's a shot from the Ho! Summer track. Tsubasa looks good in this track too, but Takki is like… *DIES* I've said this many times, but this guy here looks so good close up! How can anyone do that? (my brother says it's unfair LOL~~~) And this will be the only pic I'm posting from the DVD. Please BUY the album hehe! Arigato~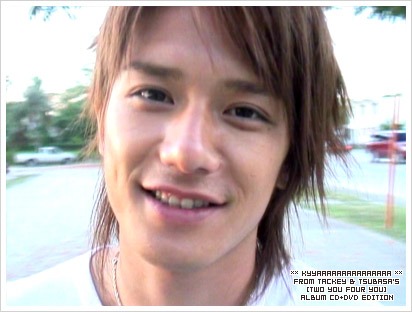 Cover, Back & Lyrics book
Favourite cover: Regular Edition
Favourite back: CD+DVD Edition
Lyrics books: it was kinda disappointing that it was the same for all three versions.
First lyrics I looked for: (no prizes for guessing correctly) 12月の花
Album Songs (Tracklist):
Generally, I like the songs in this album more than 2wenty 2wo's (though my favourite T&T song is from 22 — Tremolo). I'm going to do a one-by-one review/thoughts on it here.
#1 ラブラッキー (Love Lucky)
This song grows on me. There were the stereo effects at one point that wasn't captured during the ToBase radio version of coz, so it sounded much better on CD. I love the verses a lot~ and the chorus is still really catchy, it's the kind that will keep repeating in your head all day long.

#2 Venus
This is the very first song I heard of T&T's. And I remember liking it the first time I heard it. It is a nice song even if we've heard it for the n~th time. It's their best-selling single and the furitsuke is famous. LOL~ Btw, I've always thought it sounds Ricky Martin-ish :P

#3 Ho! サマー (Ho! Summer) ~Album Version~
LOL~ is there any difference from the single version? Apart from the missing waves sound, nothing's changed desho? Ho! Summer is like Venus to me, although we've heard it for the n~th time, it's a nice song to me, a song I liked the first time I heard it. Like Venus, everytime I hear it, I'll think of the furitsukes~

#4 夏の風 (Natsu no Kaze)
OMG I LOVE THIS SONG!! Kimi ga.. Kimi ga… Boku wa.. Boku wa.. I like the change of key from intro chorus to verse to chorus again etc etc. Fell in love with this song the very first time I heard it ♥ ♥ ♥

#5 Black Butterfly
Catchy song and cute! haha. I like everything about this song including Takki's vocals haha, except for the ending part where they put his voice thru that fake filter (I don't really like those kind of effects). But the chorus is very cute lol~ I can't find another word for the song but "cute". And I especially like the way Takki sings "Every Day Every Night" lol~ Don't ask me why, I have no idea as well *baka me* I was wondering what "Glowing Glowing…" until I saw the lyrics haha…**After Kuricon's performance, I love this song even more!! The dance is so kakkoiiiiiiiii~~~~~


#6 Slave of Love
Okay~ I've decided this is my favourite Tsuba solo… I love the intro beat, and Tsuba's vocals very nice as usual. I REALLY love the music and tune of this song! Juz realised that there's also an "Every Day" and "Every Night" LOL~

#7 Mermaid
Probably my second least favourite of this album. Somehow I tink the music and instruments used for the intro resembles one of Tsubasa's dance songs last time but I can't remember what song it is! And I don't like the trumpet lol~ The only part I like is the last phrase of the chorus =) **After Kuricon's performance, I love this song. This is the HIP-SWINGING SONG man! HIPSSsssss!!!!!

#8 仮面 (Kamen)
To be honest, I didn't really like this song when I first heard it. Actually it was also the first time I watched the performance. But when it got to the chorus, I thought "Oh it's quite catchy" lol. But I love, love, love the performances. Kakkoii dance~ This song GROWED (a lot) on me. I love this song now! Somehow I ALWAYS associate Go! Con with Kamen! dunno why lol~

#9 Rainy Memories
I think the tune of this song is quite nice. But somehow the music seem funny. And I think if the music is arranged differently, it might have sounded better.

#10 12月の花 (Juunigatsu no Hana)
I think I can go on and on about this song~~ ♥ ♥ ♥ Of coz, Takki being the one who wrote it makes it all the more special… And I'm so in love with the concert version to begin with hehe… First time I heard this CD version, I was thinking "concert version sounds better (tho CD version is longer)" lol~ but when I replayed it right after, I think I changed my mind lol~ I think it's coz I've heard the concert version too many times so I'm too used to it. This CD version has a totally new 2nd verse lol~ And of coz it's not as echoey as the con that's why his voice sounds clearer and more 'in front'. I like the piano at the start, then the drums and everything came in quite suddenly for the chorus (had quite a shock lol~) and I heard the background vocals sing "you the flower december". Oh, probably the only part I din really like is a bit of background vocals during the music bridge. Takki sounds more relaxed while singing this version, I'll definitely get very used to this version coz it gets better and better with each listening. Er… I like it when he sang the words "Juunigatsu no hana…" LOL~

#11 愛想曲 (Serenade)
This IS a nice song! And it is the 2nd T&T song that I heard. And I remember playing it on repeat mode on YouTube (when I first got into T&T earlier this year). I don't know why this is their worst selling single coz I actually think it's one of their nicer singles. Anyway, I like them wearing the red jacket (like in the PV, though I don't like Takki's hair in it — okok, gomen, I'm digressing again) and swinging their rose sticks lol~

#12 Hey!! Listen to the Music
This is my least favourite song of the album, I think. Or is it Mermaid? Anyway, one of these 2 la~ I dunno why but it's probably not my type of song… But it's quite lively and probably good for concert… sometimes opinions of songs can change becoz of concert versions (Diamond is the best example lol~) Somehow this song reminds me "Ai Shigatari" and "Ai! Check it". Fortunately there's only one of these kind of songs in this album, probably a big reason why I prefer [2U4U] to [22].

#13 サヨナラの向こう (Sayonara no Mukou)
I LOVE THIS SONG!! It reminds me of Michi~ And it's a guitary song!!! This is juz what I wanted when I first knew about the album. It's like a combination of Michi & Tremolo. ♥ ♥ ♥

#14 Venus ~Eurobeat Remix~
Minna, juz get up and dance the para para!! xD

#15 夢物語 (Yume Monogatari) ~ Christmas Version~
Honestly, like Takki, Christmas isn't really that special to me, but it IS a special occasion, so somehow you feel more love flowing around during that period rite? Hmm, my mind is drifting away… towards the christmas con… *whacks self* Ok, well, I guess they use the same kind of instruments as Starry Sky, which is supposedly a christmas song. I guess I do like this version. But of coz the original version is "the" classic ya! This one sounds more relaxed… with some muttering at the end of the track LOL~

#16 カッコつかないTonight (Kakko Tsukanai Tonight)
*Bonus Track on Regular Edition*
I really like this track! Though the music sounds like Ho! Summer, after listening to it many times, I don't link it to Ho! Summer anymore LOL~ The chorus is catchy and RETRO! like those "a-go-go" era LOL~
Anyway, this is a promo board of the album in Singapore, Popular CDRama at East Point, picture taken by my brother using his keitai cam:
This album is widely available in Singapore, taiwan versions though. Don't be fooled by the cover, the music is far from fierce hahahaha~ and the DVD is so worth it! Get a copy if you can :)