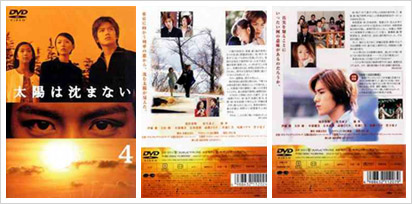 Purchase DVDs from CDJapan | YesAsia | Amazon | Towers

Drama Info:
Title: 太陽は沈まない
Title in Romaji: Taiyou wa Shizumanai
Translated titles in English: The sun never sets
Translated titles in Chinese: 太陽不西沈
TV Station: Fuji TV
Air Date: 13th April to 22nd June, 2000 @10pm
No. of Episodes: 11
Theme Song: "Goodbye Yellow Brick Road" by Elton John
Sub-theme Song: "Journey" by Takizawa Hideaki
Official website: http://www.fujitv.co.jp/b_hp/taiyo/index.html
Cast:
Takizawa Hideaki as Masaki Nao
Matsuyuki Yasuko as Kirino Setsu
Yuka as Isetani Ami
Bitoh Isao as Masaki Shiro
Satou Hitomi as Masaki Yuko
Inoue Yuina as Masaki Runa
Takeshita Keiko as Masaki Teruko
Osugi Ren as Isetani Keizou
Itou Ran as Isetani Akiko
Kyoumoto Masaki as Minami Etsushi
Takahashi Hitomi as Kitayama Shizuko
Komine Rena as Yoshida Mari
Makino Kouji as Kashiwano Kota
Sugawara Toshimi as Kikui Mayu
Moro Morooka as Nonaka Kouhei
Tsurumi Shingo as Lawyer Ikezawa
Ogi Shigemitsu as Professor Sasaki
Akanishi Jin as youth (Episode 6)
Ratings:
第01話 「母はなぜ死んだか」 Why did Mom die? (20.9%)
第02話 「僕は病院と戦う!」 I will take on the hospital (17.5%)
第03話 「ずぶ濡れで抱きしめた人」
The person I hugged while drenched to the skin (17.7%)
第04話 「別れの涙とキス」 Farewell tears and kiss (14.9%)
第05話 「母の命の値段?」 Price of Mom's life? (15.3%)
第06話 「裏切りと別れ」 Betrayal and farewell (17.0%)
第07話 「本当に好きな人は」 The person I really like (15.7%)
第08話 「母さん、裁判が始まる!」 Mom, the trial begins! (13.7%)
第09話 「母を殺したもう1人の男」 The one other guy who killed Mom (15.1%)
第10話 「衝撃の真実!太陽は沈む」 The shocking truth! The sun sets (15.8%)
第11話 「太陽とは?運命の対決」 What's the Sun? Destined showdown (20.8%)
Average Rating: 16.9%
25th Television Drama Academy Awards 2000.06.21:
Best Lead Actor: Takizawa Hideaki
Best Newcomer: Yuka
Storyline:

Masaki Teruko took their dog out for a walk that day and never came back. She died in the hospital, death from overwork, according to the doctors at Shoei Sogo Hospital. Then, her family found a scalpel among her ashes. Her son, Nao, suspects there is some malpractice involved. With the help of a lawyer Kirino Setsu, he searches for the truth behind his mother's death. To complicate things a bit further, he found out that the head surgeon of the hospital is the father of the girl he loves.
My thoughts:
*Warning: Contain Spoilers*
This is one of the first few Takki dramas I watched, back in 2000. It was a collaboration between Fuji TV and TCS back then I think, so it was shown on local television at around the same time as it was aired in Japan. The plot is really interesting, Okonomiyaki boy + Lawyer vs Shoei Sogo Hospital. It's mainly on law and a bit of medical stuff, and a bit of romance in it as well. I love how they slowly worked their way towards the truth, unfolding layers of evidences bit by bit.
Takki looks gorgeous in this drama! It has been said that when a woman is 18, she looks her best. I think it might apply to guys as well lol~ But in episode one already, you see him sobbing. Poor thing… But he had such a pretty face when it's streaked with tears kekekeke~~ *S*. I like how he was rebellious at the start, as with most teenagers of that age, then gradually changed throughout the drama.
I didn't know that this was Yuka's first drama. She's quite pretty and matches him quite well, although she's actually older than him. But the interaction is more between Takki and Matsuyuki Yasuko. They have good chemistry and I really her character in the show. At one point of time in the drama, I was wondering if Nao actually took a liking for her. Did he? Oh, and I didn't even know that Akanishi Jin (Kattun) was that youth in Episode 6 until I saw it at some website heh…
Soundtrack: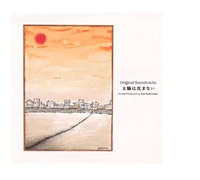 Purchase from CDJapan | Amazon | Towers
This is one of the best drama soundtracks ever! My favourite is "Nao". I even bought the piano scores for it lol~ Music is by Ryo Yoshimata and even up to today, some of the tracks are still used in commercials here. You might just recognize some of these tracks. (** My favourite tracks)
Goodbye Yellow Brick Road (Instrumental)
直 (Nao) **
Lonesome **
Revenge Tragedy
Tears **
Morning Glow
Friends **
和助
Mother **
木漏れ日 **
二人
Memorabilia
Prime Days
Short Sword
Conclusive
Cliff **
Pitch-dark
Eternity **
End Title **
The theme song, "Goodbye Yellow Brick Road" can be found in Elton John's album, and the sub-theme song "Journey" (re-recorded in 2007) can be found in T&T's Best Album – Green version (Jacket B).
Screencaps: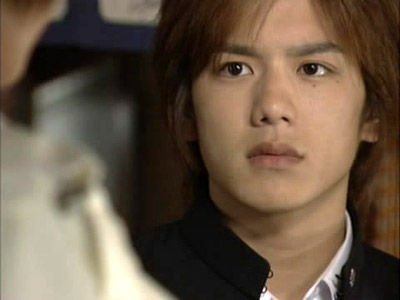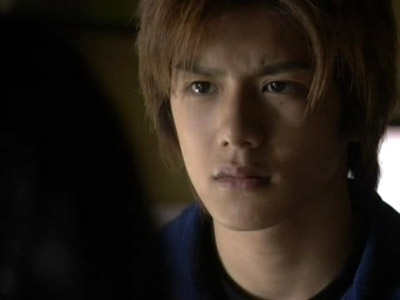 View the rest of this drama's screencaps in the gallery here.
Related Links:
** Disclaimer: All media and information posted here are for promotional purposes only. They are strictly not used for commercial purposes, and no copyright infringement is intended.