Posted by ミッチ on Nov 06, 2008
I-san and I did a bit of Yoshitsune tour, erm, 6 months ago *lol* I figured, being the huge procrastinator that I am, I'd better write about this before I start on another trip.
Date: April 26, 2008
Venue: Kamakura and Koshigoe, Japan
We bought the Kamakura-Enoshima Free Pass, that would take us from Tokyo to Kamakura, then we would be free to take unlimited rides on the Enoden, and a Shonan Monorail ride back to Tokyo — just what we needed for the day trip. And the pass only costs 1,970 yen :)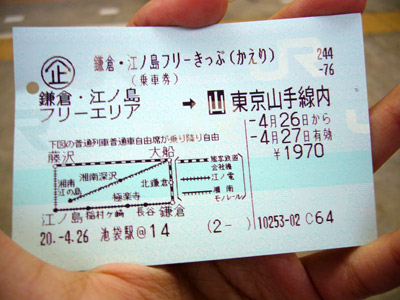 So, we reached Kamakura station. I like the look of the station, a slightly ancient feel.