Currently browsing: ザ少年倶楽部
Posted by ミッチ on Sep 19, 2006
Posted by ミッチ on Sep 06, 2006
Takki was a guest on Shounen Club 2006.09.03, and he performed "Taste Me" for the first time. He was the a special guest and appeared at the end of the program.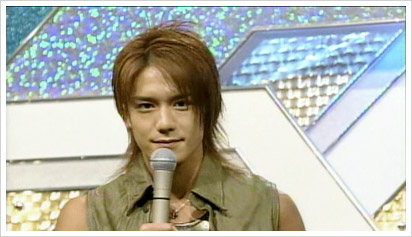 Taste Me
I remember the first time I heard this song from the single, I started laughing coz of the way he pronounced the english words, and coz of the lyrics itself. I didn't really like the song, but the words are so *yummy* hahaha… "Taste me, honey… Drink me, honey" hahaha… But the performance itself was kinda sexy, the backdancers were each doing their own sexy stuff lol. Now I like the song more hehe…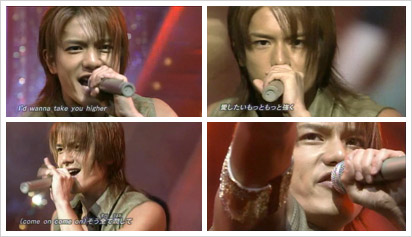 Yume Monogatari / Venus / Epilogue / Ho! Summer Medley
The juniors sang and danced Yumemo & Venus, and then the music for Epilogue played. Takki appeared from a door in the middle, and when he appeared out of the "fog", the screams escalated~ I LOVE EPILOGUE!! I loved this performance of Epilogue so much, but it's too short~ he only sang one verse alone, then the rest joined in for one chorus.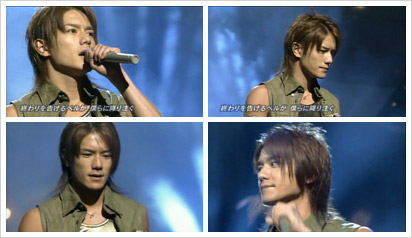 Then it was Ho! Summer! Takki's solo version. Nice also! hehe, and there were so many people backdancing. Then Yamapi and the rest came out to join them (as this is the last song of the show). Takki held up a bit of Yamapi's "outfit". I think he must be thinking what a weird outfit lolz. He also did a short dance thing with P :)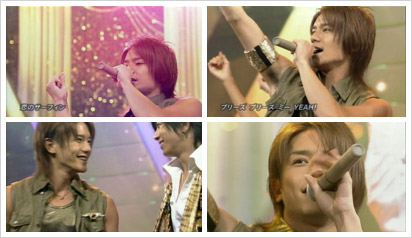 Download .001 | .002 | .003 (257.32MB)
** Re-uploaded on 30th November 2007.
Posted by ミッチ on Aug 28, 2006
Takki looks amazingly handsome on this show. I concluded that he looks good in PINK LOLz… He was interviewed by Taichi of TOKIO, and talked about how he decided to join Johnny's at age 13 coz he didn't have the size to become a pro-wrestler.