Currently browsing: うたばん
Posted by ミッチ on Apr 20, 2007
Posted by ミッチ on Apr 19, 2007
Konbanwa, minna-san! Just finished watching this episode of Zubari. I skipped most of the talking part as usual, and extracted the more 'exciting' parts here.
First is the "who's more kakkoii" part – Takki vs guest. They're made to say some lines with red flowers as background. The last line Takki said was about Kazuko's "all-back" hair, and he blurted out laughing straight after that haha…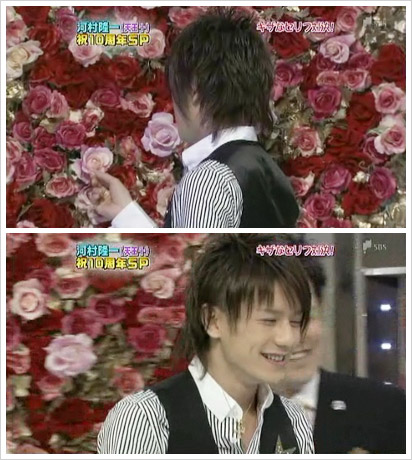 Download this part here (52.15MB)
Then, towards the end of the episode, Takki taught Kazuko and Creamstew how to do the X~Dame furitsuke. And aikata-kun's name was mentioned twice during this episode heehee, they juz like to tease him ne… I was laughing sooo much at how Arita was doing the "fingers pointing in all directions at the speed of light" action… HILARIOUS!!!!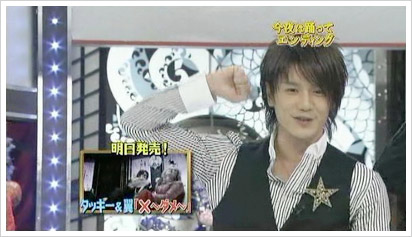 Download this part here (23.09MB)
Woah~ the rush is killing me… my eyes are about to close already, but I saw Utaban being uploaded… so… gotto wait… ahhh… fai d finish uploading ah… hayaku! hayaku! Maybe I should take a nap first…
Oh, before I forget, here are some re-uploads. Utaban 2006.01.19, the very first Do-Mi-So Samurai episode – talk, samurai skit, venus (english subbed by BNS/wribbit), download from MU: 001 | 002 | 003 | 004 (Join them using hjsplit)
Posted by ミッチ on Aug 22, 2006
There just have to be a post on this: The Samurai Skit, from Utaban 2006.08.10. It's gonna be long, so bear with me hehe… Takki & Tsubasa performed Ho! Summer, and the first shot of Takki was funny already and set the mood for the entire show IMO.

The talk segment. It was quite short, but Nakai tried to do some Yume Monogatari thingie but got the lyrics wrong lol. Takki corrected him and sang a line from the chorus hehe. They also talked about the groups they hang out with I think and their upcoming solo activities. And they showed a group photo of Takki, Yamapi, Toma, Jun, Koichi, etc, etc (No Border). They all had funny expressions in the picture, especially Domoto Koichi lolz. But Takki still looks really pretty in it.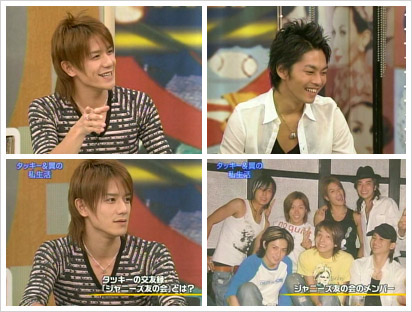 Then comes the rehearsal for the skit. LOL. This skit is the continuation of the Jan'06 DoMiSo Samurai skit. Though I feel that the previous one was funnier, this one has a more elaborate set, and it's also really funny~~~~ the "lady" this time did this really long sexy dance.. You got to see it for yourself, it's hard to explain :)
The funniest part: When Takki, Tsubasa and Nakai appeared, they had to say "Do" (Takki), "Mi" (Tsubasa), and "So" (Nakai). When Takki and Tsubasa first said "Do" and "Mi" respectively, Nakai scolded them for saying it wrong. He then 'taught' them how to say shout it (in a strangled chicken voice lolz). Takki and Tsubasa then followed and it was super hilarious!!! wahahaha….