Posted by ミッチ on Dec 16, 2010
I didn't watch this real time. I totally missed this one, forgot to add it into my iPhone calender lol~ but anyway, I was surprised to see that the performance part was shared on Youtube so quickly, and in HD!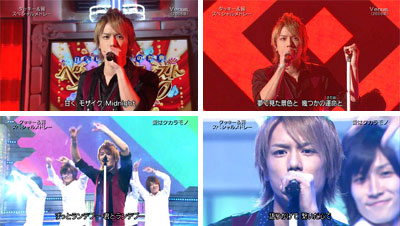 Here is the streaming Hey!Say!Jump and T&T performances.
T&T did "Venus" and "Ai wa Takaramono" and Mis-Snow-Man were backdancing. I've put this post under the "Downloads" category which is locked so as not to risk suspension of the uploader's account. As of now, I have a HD DivX, but this macbook doesn't have the right tools to cut the clip. I'll need my windows laptop for that, and definitely need more time…