Posted by ミッチ on Oct 06, 2007
I love KAMIRA ♦ TAMARA!!
It's so nice to hear it again… T&T sang the verses live. YumeMo was nice and catchy~ Venus is just a song they have to add hehehehe…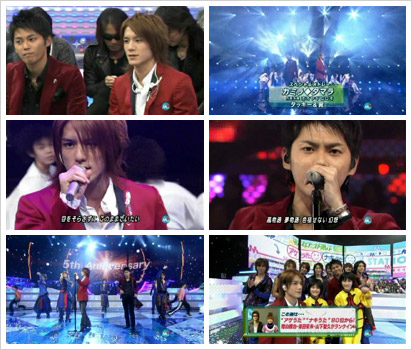 T&T look really neat in red! Yuki-chan Takki looks very fair and pretty~~ At the end of the medley, they flashed a huge "Tackey & Tsubasa" followed by "5th Anniversary" on the screens behind.
And erm, wat was the KMF2 pulling off their tops for? lol~~ I like KMF2, but it's chotto funny to do that on a Msute SP haha… MatsuJun looked very happy in the clip hahaaa. Maybe he went for beer with Takki after the SP… And Takki did THAT "walking down" THING at the end of the clip bwahahahahahahahahaha… BAKAKKI!! XD……… He did it before during this Shounen Club deshou, after his "Meri-Kurisumasu"! :)