Posted by ミッチ on Feb 08, 2013
Here are some of the WS clips from Wednesday.
Takki will be playing Yoshitsune again this year. He said honestly, he doesn't want others to play Yoshitsune. I also feel that he's most fitted for the role lol. ZIP! focussed on the 'hadaka festival' where Takki and Jrs hit the drums half-naked. In Mezamashi, a reporter asked if he'll be getting married soon~ coz earlier this year, Johnny-san made a comment that Takki needn't ask for his permission to get married lol. PON! featured the title logo, the hidden "タッキー" in the "舞" character. Takki also said that the logo itself is the handwriting of Johnny-san.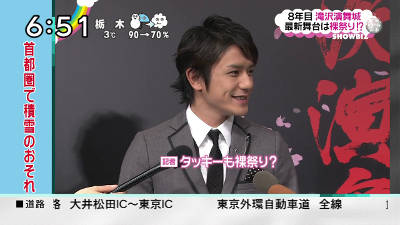 MF (59.37mb, mp4)