2010.04.25
After having breakfast at the hotel, we left for Harajuku. But by the time we got there, it was already about 10.30am. I had to take a queue no. from the guy at the bridge. It said, to come back at noon.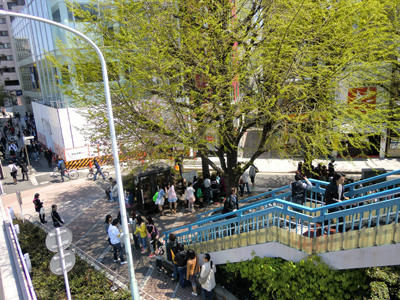 So we headed for Meiji Shrine, which was just across the road.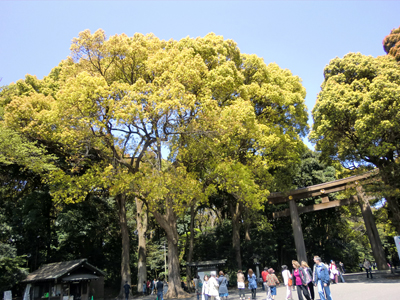 There were much lesser people this time, compared to my visit in January. Hence the path was much easier to walk. It wasn't dusty at all. And on the way in, there were wine sacks again. This time I took a clearer pic of it.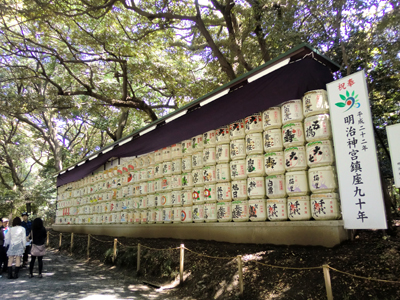 This time I also did the water thing properly. It so happened that a Japanese lady tour guide was explaining to a group of western tourists, in English, how to rinse their hands and mouth properly. We just stood among them listening attentively hehe~
We got to the main temple, and there really wasn't many people.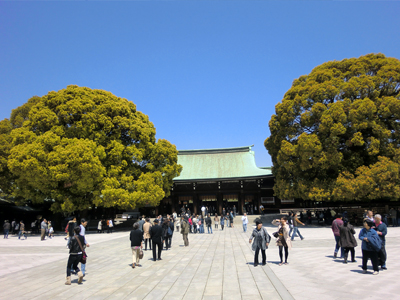 We saw people writing their wishes on emas, but I still don't have the courage to write one haha. This time, the main hall was open (it was closed in January due to some royal function thing). We went inside to make a wish.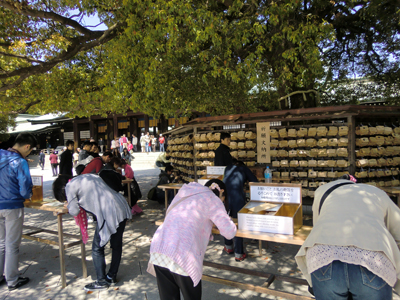 And I was lucky again as there was a wedding ceremony going on there.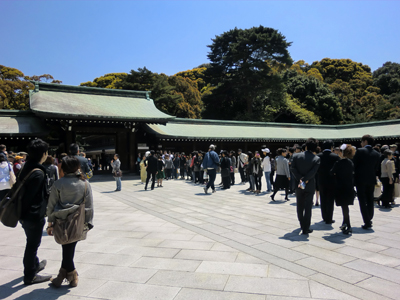 Many of us stopped to look at the bride as a lady helped her change and adjust her kimono. Everyone was trying to get good pictures (and video lol), and some even ignored the lady's "dame" hand actions lol~ This was at a small corner of the shrine, but look at the crowd lol~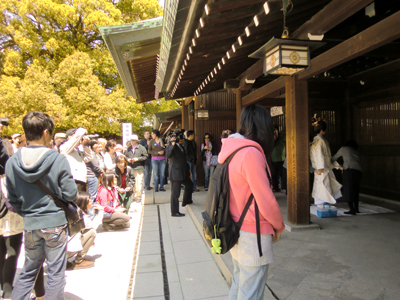 There was still a bit of time after this, so we went to Yoyogi Park which was next to the shrine, had a jumbo sausage *oishii* and watched many people do their sunbathing, dancing, and walking dogs (of all sizes lol). There was a flower display thing on one side… hmm, but there wasn't much here, so we didn't venture deeper into the park.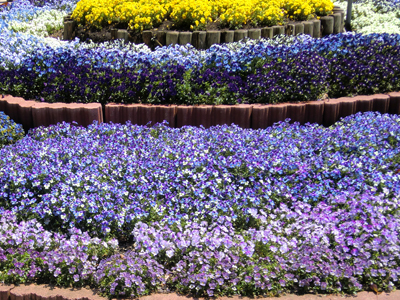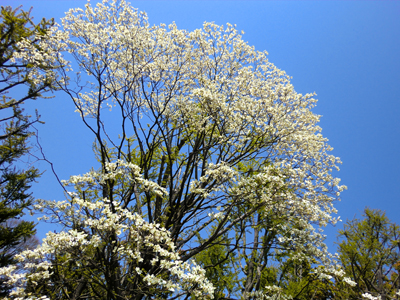 While I was waiting for bf-san outside the toilet, I took a pic of this lonely stalk of flowers lol. It was standing up in the middle asking for attention lol~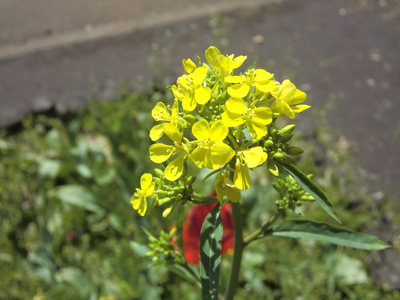 And then it was time to go back to the Johnnys shop queue. I queued for another 1/2 hr or so while bf-san did his shopping around Omotesando. When I finally got into the shop, I quickly bought the Countdown photos – there were 14 shots of Takki from Imperial Theatre on 12/31 last year – and got out of the shop as soon as I can.
I took a pic of the Gindaco located in front of the head of the queue. Just becoz they have the bestest takoyakis in the world :)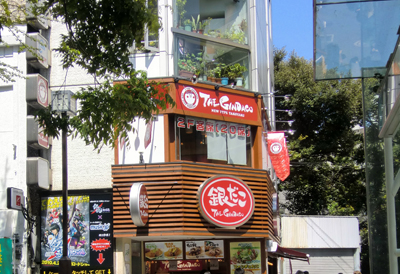 Then, we proceeded for lunch at Wolfgang Puck @ Takeshita Dori. It was my first time eating at this restaurant, and the food there was not bad.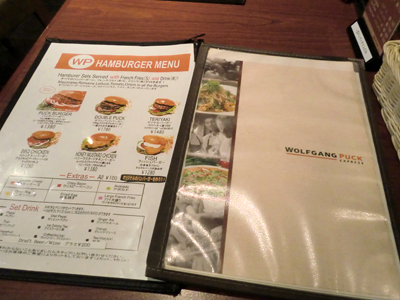 I had the locomoco (influenced by cafeworld@fb lol)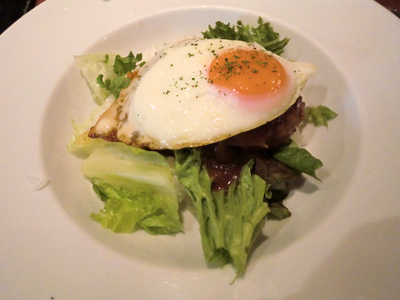 Again, hamburg and eggs – 2 days in a row. But no complaints at all haha~ Un, and then it was time. Bf-san went back to Ikebukuro to shop at the seibu and tobu… while I headed to Ginza, to Nissay Theatre for my first Takizawa Kabuki show :)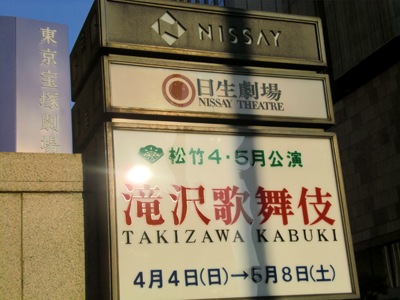 I sat on the railing in front of the entrance, and while waiting for Snuffles & Loracyn, I took some pics with my cam. Oh, and I also met Olive for the first time this day. Nice to meet you hehe~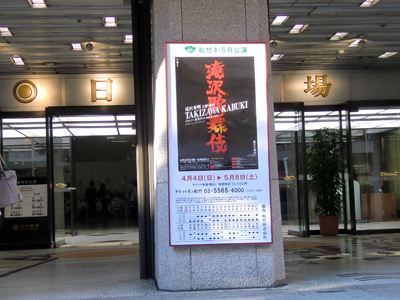 After the show, we followed the crowd to the train station, and passed by the Takarazuka theatre. Wow, the demachi queue was sooo long over there. It's so good that they officially allow fans to wait for the stars with cameras and stuff.
Back to Ikebukuro, I met bf-san at the train station, and I brought him straight to Yamachan for (a really late) dinner. It was almost 11pm. And we were lucky (and I guessed it right, from the way she spoke), that the waitress who served us was a chinese. Bf-san had yakisoba, and I had maguro natto :)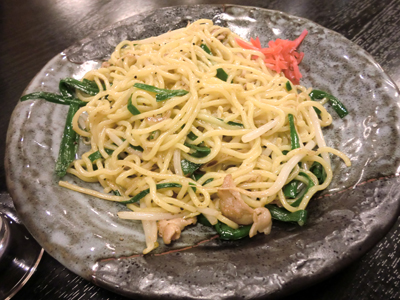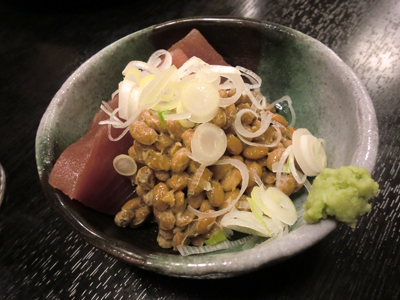 And our side dishes – of coz my main purpose was to eat their tebasakis. But bf-san also ordered his favourite wasabi tako, which I also love haha~ Yes, I love to EAT!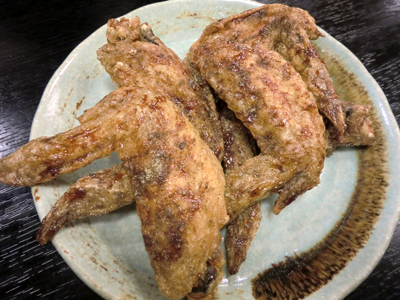 And finally we ordered drinks, and thanks to the explanation of the waitress – in mandarin, we were able to order these: grape with milk & grape with calpis.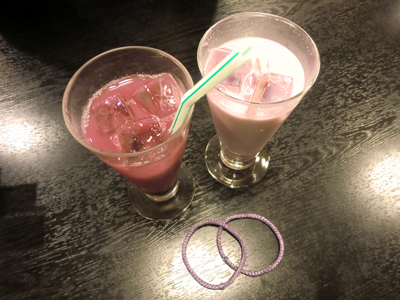 Both were really delicious ^^