Posted by ミッチ on Aug 16, 2006
Press conference for Takki's recital ONE! ~ THE HISTORY OF TACKEY ~ was held 2 days ago. He looks really good in the clips wor, especially during the closeups~~ Here are just 2 screencaps out of the numerous I've freezed framed lol~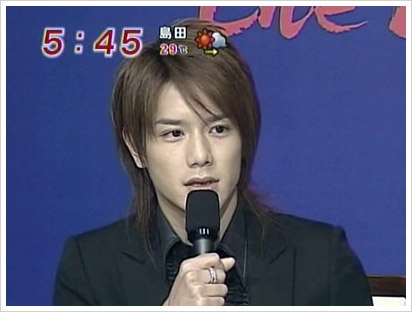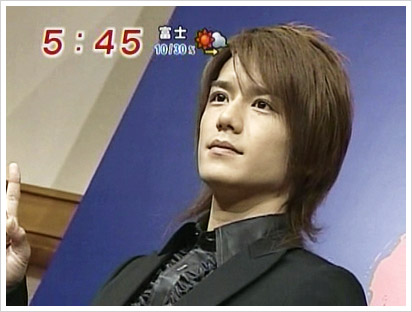 Snuffles posted some points that she got from various online articles.
Takki said how even children can have history when they experience deaths in the family or divorces etc. For himself, his parents divorced when he was still really young.
Takki was born on a hospital bench. Apparently by the time his mum reached the hospital, all the delivery rooms happened to be full. So they had no choice but to set up for emergency delivery on the bench.
He will be shown dying as an old man at a park bench (this part I don't really get it too. Aren't they only telling his 'history', meaning Takki from birth to 24 yrs old?)
Times were hard after the divorce. He was brought up by his mother and financial situation wasn't exactly good. His mother used to make gyoza (fried dumplings) with tuna instead of pork cos they didn't have enough money but Takki was apparently too little to tell the difference then.
He took one week to write a report about his life, together with inputs from his mother, before submitting it to Johnny Kitagawa.
Takki said he couldn't really accept it when his mother remarried and he had to change his surname to "Takizawa" (sou desu ne~ so I guess that's where his birth name fits in? So… all along we were calling him based on his stepdad's name! So weird…)
Although it sounds dark, the recital will not be simply sad and gloomy. Takki just wants to let people know what go through children's thoughts when they experience events like divorce. And in this way, sends out a message to lonely children and (single) parents, assuring them that they are not alone in this and thus giving them some courage and light. It will show happy moments in Takki's life too.
1st part of show will be about Takki's history. 2nd part will be about the current man that he is, and showcases the illusions that he learnt during his stint in Vegas.
My japanese is hopeless so I had to snag it almost-wholesale from Snuffles' blog (Arigatou, Snuffles!). It's really touching reading it ne… I wish I can see the recital too… *sulks*
Download: *Re-uploaded 28th Nov 2007
Zoom In 2006.08.15 (13.22MB)
Mezamashi 2006.08.15 (25.42MB)