Posted by ミッチ on Mar 19, 2012
Continued from our Act 1 report.
2 – 1 : Again, the Forest of Kumano
☆ Act 2 Overture
The lights dimmed, music played in the background, and the water curtain showed the words "Shinshun Takizawa Kakumei Act 2". One of the Jrs (Otsuka-kun) walked out and talked about Newton's prediction of the end of the world, same as previous years.
☆ Prologue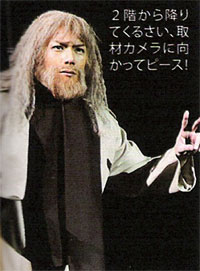 The music changed and the spotlight shone on Hideji who was hanging from a wire near the far right corner of the 2nd floor, just like previous years. We sat on the 1st floor on the 27th so we actually saw his shadow on the screen before seeing the real Hideji. But we were laughing like crazy coz we could see the shadows of the many little Hidezos that were hanging from his walking stick!