It's been a really hectic year of non-stop Takki single, butai, dvd, butai, single, and now… concert. No complaints at all though, since I'm enjoying everything apart from the lack of $$!! Sorry, I haven't had the time to post up my Enbujo'09 show reports. Of course, I haven't posted any Takizawa Kakumei'09 reports either and most probably won't lol~ In any case, let's start with the goods for Takisama Con'09, and pray that I'll have time to post a report of the show before the drama starts on the 24th… which gives me 3 weeks!! Once the drama airs, I'll have loads of work to do heh…
Goods Booth
The goods went on sale really early this time, as there was no afternoon show. Sales started at 1pm. We met Leli at her room and proceeded to buy goods. I think it was around 2pm. When we first saw the goods, Kat couldn't stop kyaaaing lol… Everyone was looking, coz there was no one in the queue. I tried to shush her up, but had great difficulty myself, coz with a poster like THAT, and an uchiwa like THAT, it's hard NOT to kyaaa or laugh out!!! XD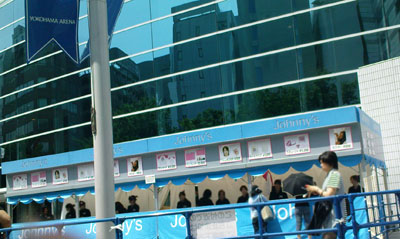 This is a sneak shot I took of the goods booth when it was empty. The crowd started to pour in at about 4pm. We had to queue a few times, coz each person is only limited to 5 pcs of any item.
Pamphlet
EVERYTHING IN IT IS TAKKI!!!!!!! That's why I love solocons! You get 3hrs non-stop of Takki (well, apart from the short Jr. show time), and a pamphlet with Takki ONLY! :) We hardly get the chance to own a pamphlet like that. In fact, this is only the 2nd time. For butai pamphlets, there are always juniors in it, and for unit con pamphlets, there's of course Tsubasa in it. All these yrs, my most precious pamphlet is Takkuricon 2005's (it still is! coz I went thru A LOT to get my hands on it~). Now this Takisamacon pamphlet is like a dream come true~ it's even better than the first one! 100+ pages, filled with loads of kakkoii pictures (I didn't really like Takki's hair in the 2005 pamphlet), PINK!! and the colours of the pages are very visually pleasing.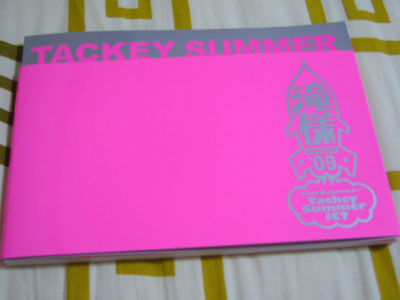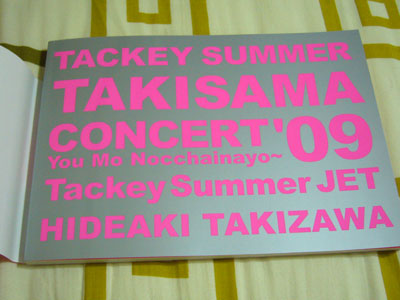 Its theme is like… A certain day in the life of Takizawa Hideaki. And I think this was shot in Guam, as the newspaper was in English (erm… can he read English? lol~). Takizawa wakes up, looks out of the balcony (BICEPS!!), brushes his teeth, changes his clothes (ABS!!), has breakfast and reads the news, drinks coffee, wears his shoes, then leaves the house to go around exploring Guam.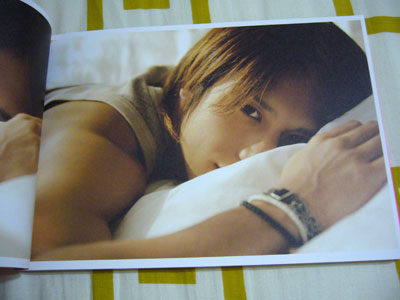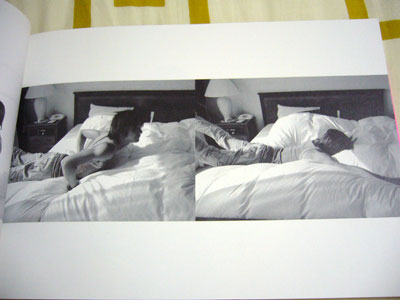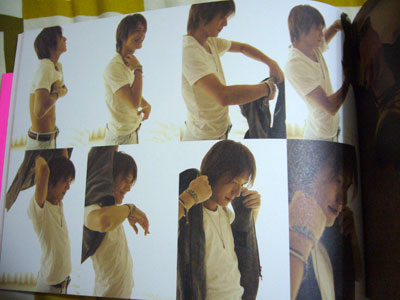 He also plays the piano, the guitar, eats more delicious BBQ, takes a walk in the park, beside swimming pool, and in some building… then goes to the beach and writes LOVE in the sand…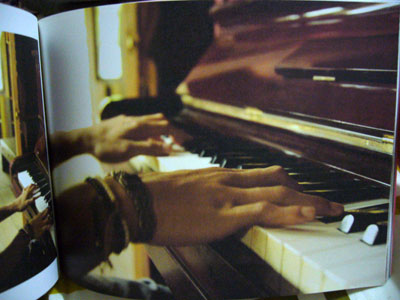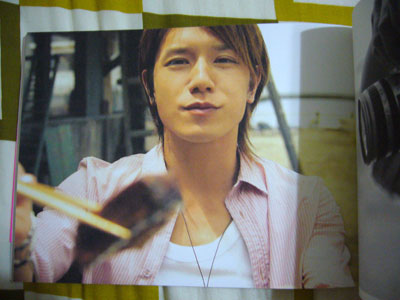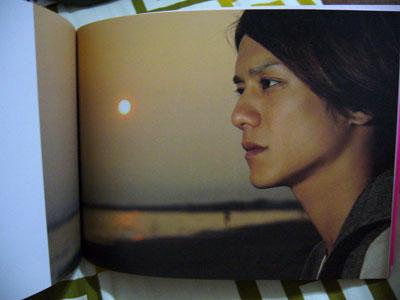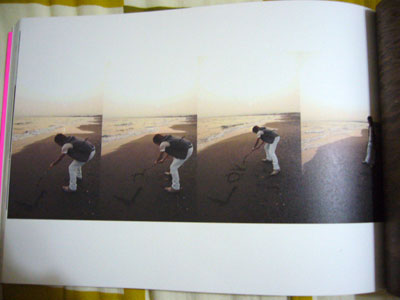 After the 'normal' life of Takizawa, there're 2 pages of "Another Day" at the end – a day when Takki had to carry out his role as TAKIRANGER, to defeat the evil guys with the power of LOVE =D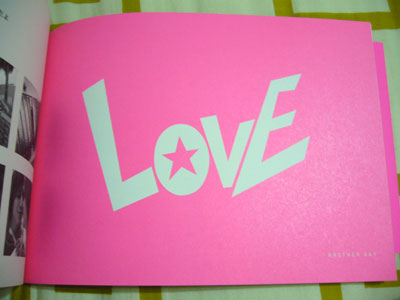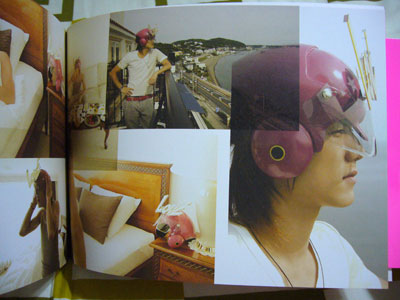 Some other pics I love from the pamphet:
*PEACE*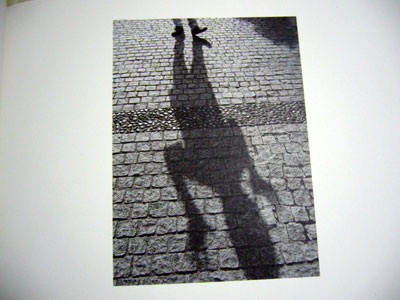 滝はスター☆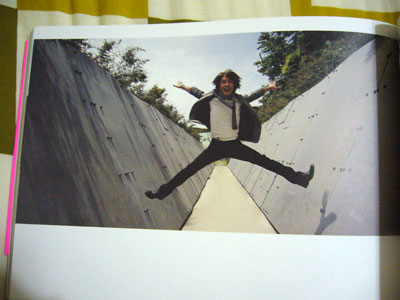 I read the entire pamphlet last night, and ended up sleeping at 3am… although my eyes were half-closed, I didn't want to sleep until I finished everything…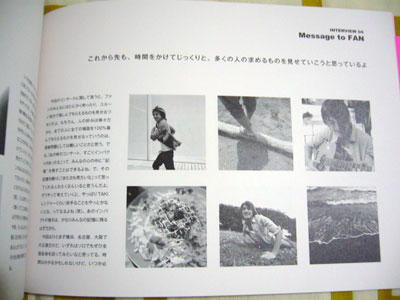 Poster
This was quite difficult to take a photo of, coz of the angle, but yeah, the poster looks something like this…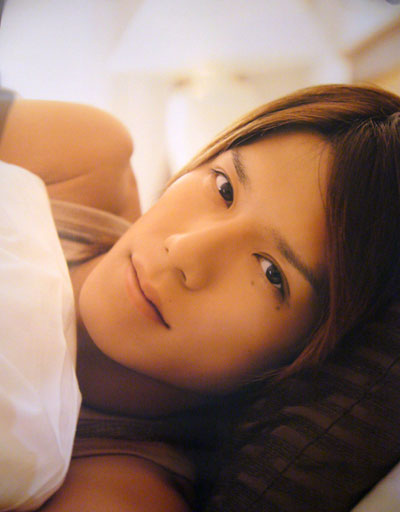 Once I saw it, I knew I had to get more than one. A pity the paper used for the poster isn't as thick as the Enbujo ones, but the image is definitely yummy enough to make us drool…
Jumbo Uchiwa
This joker here made us laugh real hard. Usually the uchiwas are Takki's face on one side, and his name on the other side, right? But this one is really unique! When we saw the "back" of the uchiwa, TAKIRANGER staring at us in his LOVE helmet, I think everyone couldn't help but laugh! Definitely a must-get too!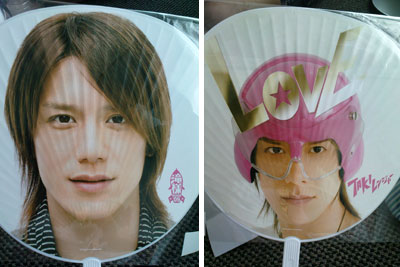 T-shirt
I didn't really like the t-shirt at first… coz I didn't really like that design at the front. But I loved the pink & the design at the back (a small little Tackey Summer Jet logo and words at the top only). BUT… after the show, I started to love the t-shirt alot!!! haha~ Takki looked sooo cute wearing it. And we all looked like little girls wearing it too bwahahahaha… Kat & I wore it for all 3 shows!! Snuffles & Loracyn wore it too on the 2nd day, so we were the 4 "LOVE" TAKIRangresses!!! XDDD
BTW, Takki's t-shirt is slightly different from ours. His "LOVE" words is GOLD in color, and *kirakira*!! XD But he looked so cute wearing it (plus the hairband) that I think more ppl went to buy it after the first show lol…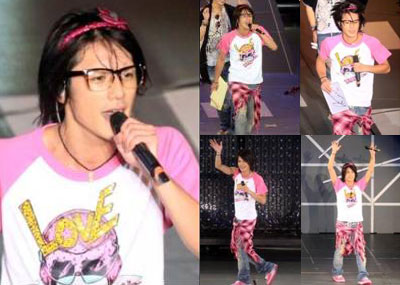 Kachuusha (Hairband)
Same as the t-shirt, I didn't like the "LOVE" thing at first. But I think many fans (including Junior fans or Kame fans) went and bought them later, coz ALL of them wore it! LOL~ A.B.C-Z and Kame also did funny things with the hairband, like putting it around the eyes, covering one eye with the LOVE (like a pirate), wearing it as a headband (around the forehead), kiss the heart thingie, etc etc… And Takki looked too cute wearing it that it needed a great amount of self-control to not get my 2nd piece LOL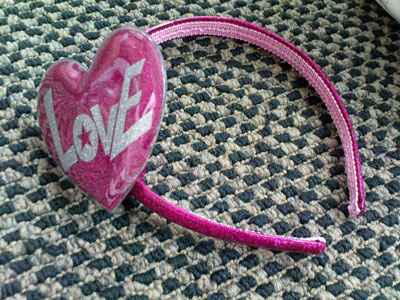 BTW, the "LOVE" comes detached from the hairband. It can be worn on the left, right, upright (sticking out of the head), or flat (along with the head), in any way and any place you want. It can also be fitted with a safety pin, and pinned onto your bag or clothes! Cool!!!
Tote Bag
Also the same as with the t-shirt & hairband, I didn't really like it at first haha. Coz I was expecting a totally shocking pink bag!!! But I loved the colourful side with many little heart shapes. I still don't really like the side with the TAKIRANGER image hahahaha… BUT… as with the above goods, Takki carried the totebag during the concert!!! He put all his autographed cards into the bag, and took them out one-by-one to throw to the audience during the encore. See!!! If Takki carries one, we HAVE to get one too! LOL… I got two :D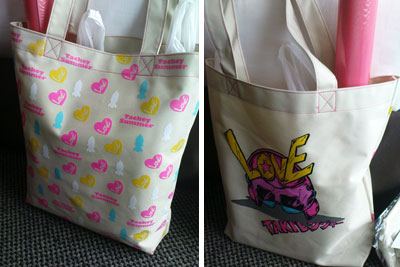 That's all for now. Although there are only a few goods this time (I'm expecting LIVE photos to appear on the goods list soon – for the Nagoya and Osaka con!), they are all SO CUTE!!!!! And the pamphlet is PERFECT!!! The first MUST-GET on the list, followed by that nosebleedingly sexy poster & hilarious uchiwa. But for people who went to the concert, they MUST get the t-shirt, kachuusha and tote bag as well!!!! Haha~
What's missing is a penlight!!! It's definitely required ne~ during the TAKIRANGER segment, and for all the songs with furitsuke as well. I brought my T&T kuricon'06 penlight but it had only green/red light. If only there was a Takisama Penlight with PINK light (in the shape of the Tackey Summer Jet?)! Aww, that would be perfect!!! XDDD
じゃ、コンサートレポート頑張ります!
[Report] 滝様コンサート'09 – Goods